Corona-Info Chatbot Helps Medical Authorities Deal with Information Requests
Fighting COVID-19 with Awareness, One Message at a Time
GetJenny's Corona-Info button bot serves concerned citizens on healthcare and municipality websites with centrally updated questions and answers based on official information.
Days
This study covers the first 22 days of Corona-Info, the chatbot that helps health authorities communicate facts about COVID-19 quickly.
People Reached
Through Terveystalo, Esperi Care, Riihimäki Health Authority and other websites with Corona-Info.
Questions Answered
The amount of times Corona-Info gave information to concerned website users during the study period.
Background: Companies and Authorities Joining for the Common Good
GetJenny is a customer service automation company with offices in Finland and Italy. We develop JennyBot, a service that allows companies to make chatbots easily and quickly for customer service, lead generation, HR and crisis communication.
The Finnish Institute for Health and Welfare (THL) is an international research institute operated by the Finnish government. It cooperates extensively with the World Health Organization (WHO) and the European Centre for Disease Control (ECDC).
Terveystalo is a leading Finnish private healthcare service provider. It has approximately 260 clinics, covering all 20 of Finland's largest cities, and offers digital healthcare services through its website.
Esperi Care is a nursing home provider. It manages 8,000 beds over 200 municipalities in Finland offering care for the elderly, mental health patients and substance abuse patients. They have 6,300 employees, mostly nurses and caregivers.
Riihimäki is a town and municipality in the south of Finland, about 69 kilometres north of Helsinki. Riihimäki's Regional Health Center serves Riihimäki and the neighbouring areas of Hausjärvi and Loppi, combined for a total population of 47 thousand inhabitants and a population density of 42.4 people/km2 (109.8/m2).
"We wanted to do our part. Everyday we help customer service people reduce stress with a chatbot technology that answers common questions 24/7, when concerned customers need answers.
So to help out, we made what we do best: a chatbot." said Teemu Kinos, CEO at GetJenny.
Need: Spread Facts and Awareness about COVID-19
On March 2nd, there were seven confirmed cases of COVID-19 in Finland. Coronavirus in China, with 80k confirmed cases and Italy, with 2k confirmed cases, dominated the news.
In Italy, municipalities in Lombardy and Veneto were placed in quarantine. All social events were cancelled, schools were closed in Lombardy, Veneto and Emilia-Romagna. At GetJenny, we feared for the safety of our Italian team, and their loved ones. How could we help fight COVID-19?
With conflicting and false information about COVID-19 spreading faster than the virus, we saw that a chatbot could be one of the tools to help set the facts straight.
In Finland, where testing was minimal and few people were concerned, we saw a special need to spread information and facts about the virus.
JennyBot allows you to create a single chatbot and deploy it on multiple websites at the same time. The information, and the way it works is the same on all the websites, even if you change its visual appearance.
A chatbot developed by GetJenny allows our customers to get up-to-date information on the current state of the virus and answers to common questions efficiently around the clock.
Annette Kainu
Chief Medical Development Officer, Terveystalo Digital Healthcare Services

Solution: Centrally Managed Chatbot, Deployed Everywhere
Teemu Kinos, CEO at GetJenny fired up JennyStudio, spoke with the THL and built the Finnish version of Corona-Info in two hours.
Corona-Info is a button bot. It gives visitors a set of predefined topics to learn about and guides them through a conversation to help them get the information they want quickly.
The Finnish version is based on facts reported by the THL. It is updated daily with fresh facts on the COVID-19 situation. This takes about ten minutes.
Other languages soon followed. The international GetJenny team stepped up, taking responsibility for localized versions of Corona-Info. Our COVID-19 awareness chatbot is now available in English and Russian, with an additional Dutch version that uses the Netherlands National Institute of Public Health and the Environment giving Dutch speakers fresh facts in their region.
Results in Numbers: Seven Thousand People Informed in 22 Days
Corona-Info is used by healthcare providers and municipalities including Terveystalo, Esperi Care and the Rihimäki Regional Health Center. It's also live and on GetJenny's own COVID-19 information page, and it's free to use.
Timeline 04/03/2020 – 26/03/2020
In the 22 days since it went live, Corona-Info has had over 7k conversations and exchanged over 20k messages with concerned people on these websites.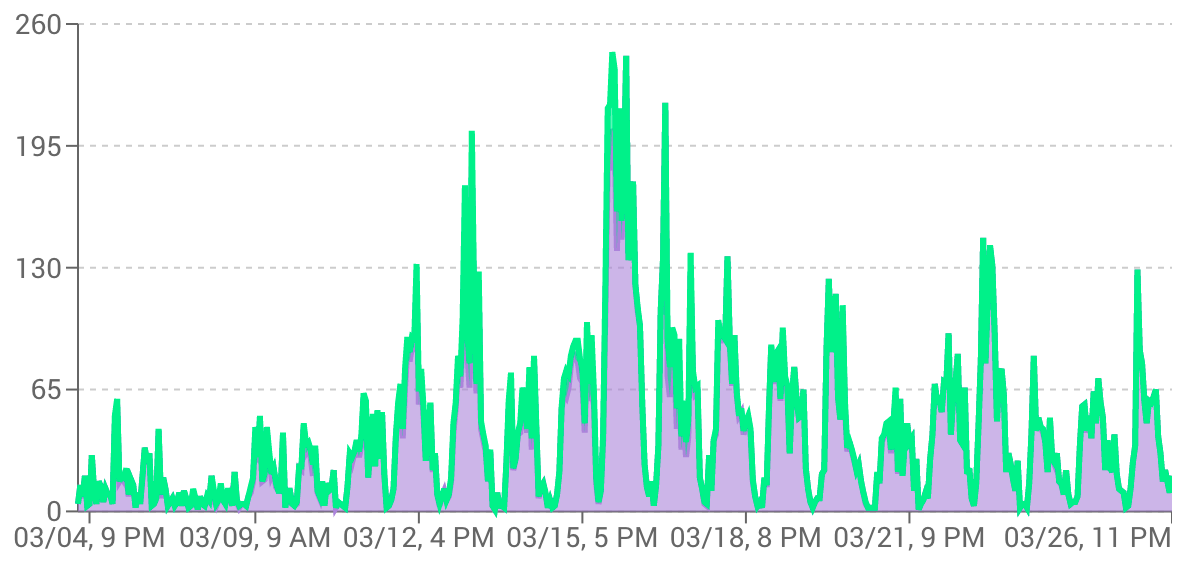 JennyBot Analytics recording chatbot automation for Corona-Info from 4/3 to 26/3 2020
Corona-Info experienced a peak in usage on March 16th at 10AM, after the morning report of the first coronavirus patient to be transferred to an intensive care unit. A few hours later, the Finnish Prime Minister, Sanna Marin declared a national state of emergency over the COVID-19 epidemic.
In that hour between 10 and 11 AM, Corona-Info provided facts to 84 website visitors through a total of 204 messages.
The most popular request from Corona-Info users is frequently asked questions about guidelines for travellers and workers. The runner up is people wanting to know more about the virus, its origins and the symptoms.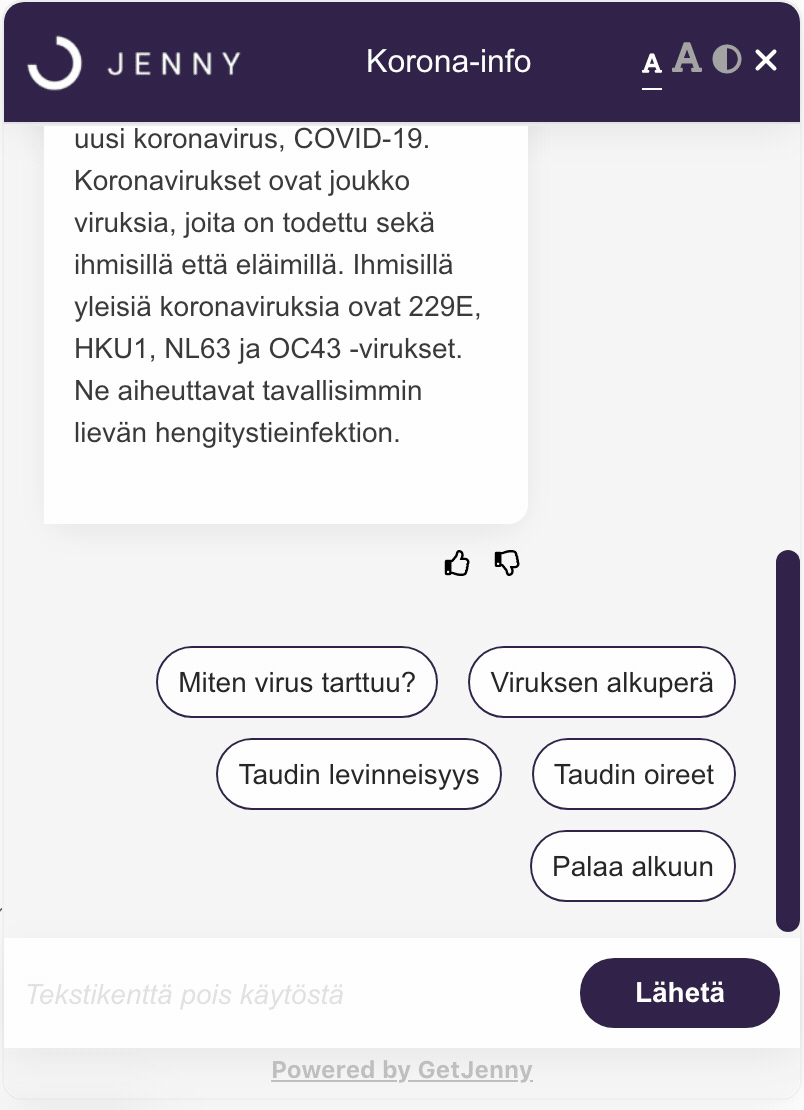 Getting up-to-date knowledge and information about COVID-19 is fast and easy with Corona-Info.
Future Plans
Corona-Info is available to use on your website for free. This is part of our ongoing effort to use chatbot automation as widely as possible to combat COVID-19 misinformation. The chatbots are updated daily by GetJenny staff, based on the current information from the relevant health authority.
We're currently working on a German and Swedish versions of Corona-Info, as well as a version tailored for the US, using information from the Centers for Disease Control and Prevention (CDC). There will be more tailoring options for companies who want to use Corona-Info with their current technology setup, like live chat.
And as we are cooperating more closely with healthcare professionals, we will be providing self-assessment questions in Corona-Info so that people can use it to decide whether to call a healthcare professional for further diagnosis or treatment.
If your organization wants to communicate with Corona-Info on your website or you'd like to automate other requests with AI chatbot technology, get in touch below and let's make it happen.
We're in this together. Stay safe.
Spread facts with Chatbot Automation.
Read more Customer Stories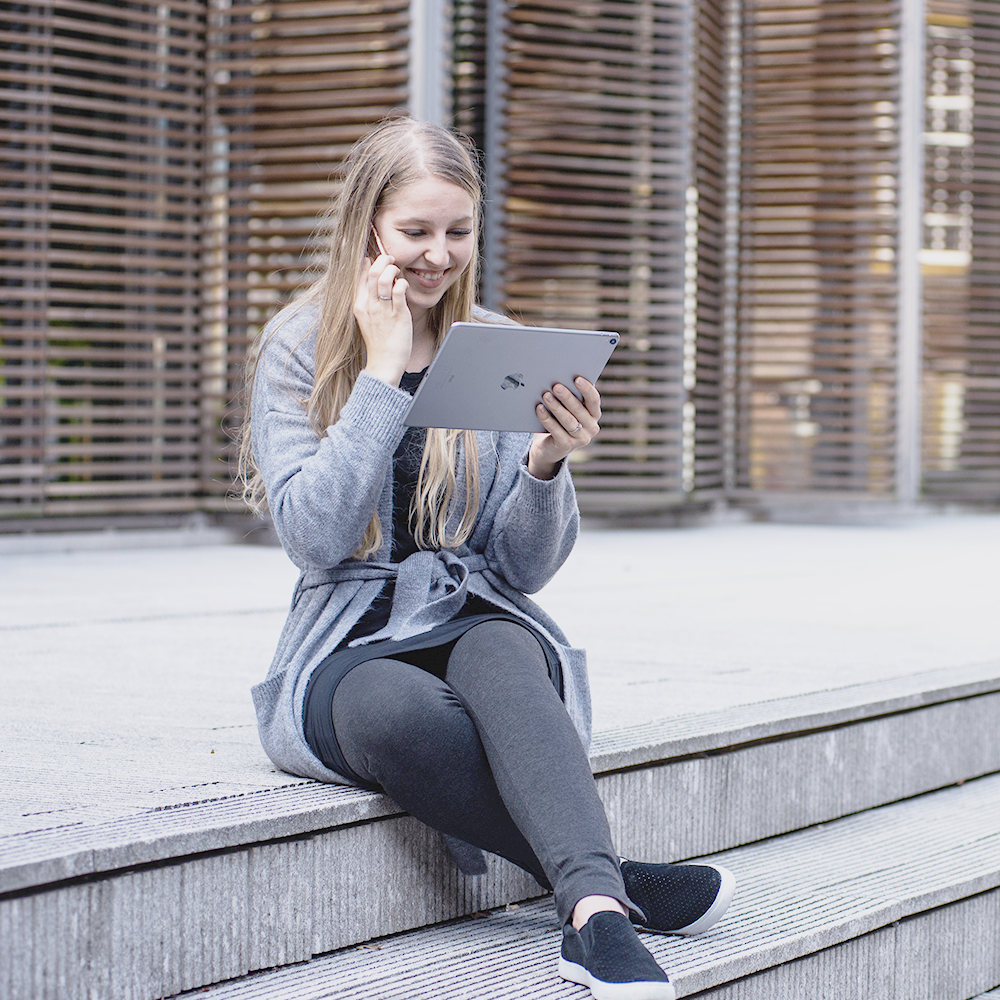 Improving the Overall Customer Satisfaction With a Chatbot
Learn how HOAS chatbot contributed to the improved overall customer service satisfaction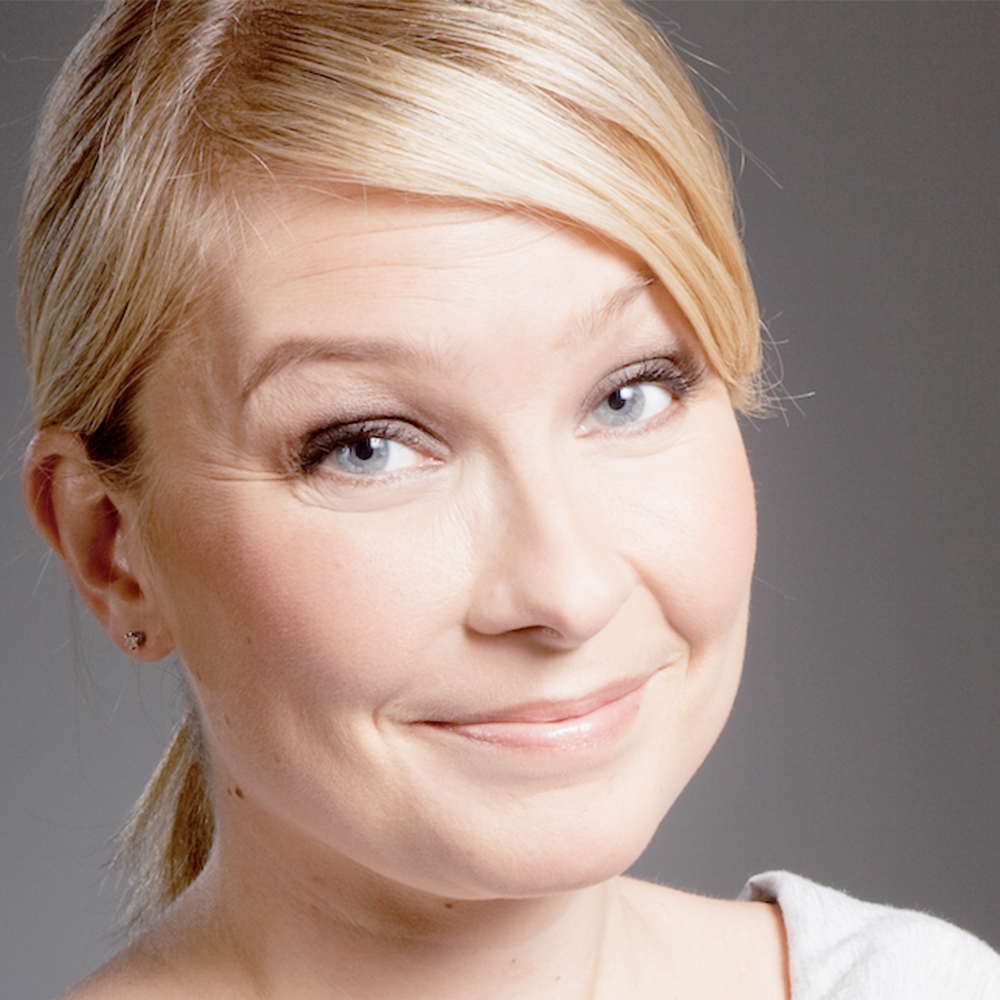 Finland's Largest NGO hits 90% Automation With a Chatbot
Yrittäjät choose GetJenny and hit 90% automation rate in only four months.