85% Chatbot Automation Saves Customer Service Team 330 Hours per Month
Varma's Helmi, a 24-Month Study
Varma's chatbot Helmi, built on the GetJenny platform gives customers 24/7 access to customer service, provides 85% automation for their customer service team. Helmi allowed Varma to reallocate their customer service professional's time to focus on more complex tasks as a direct result of chatbot automation.
Increase in Chat Opening Hours
Helmi the chatbot allowed Varma to serve customers via chat 24/7.
Hours Saved per Month
As a result of chatbot automation, two customer service agents moved to more demanding positions in Varma.
Chat conversations fully automated
In past six months, Varma's chatbot deflected nine percent more conversations from 76% to 85%
The Background: About Varma
Varma is a pension insurance company. They invest pension contributions for their 900k customers, have paid out €5.9b in pensions, and currently have a 12% return on investment. Their mission statement begins with "You will receive a pension" and they complete their vision by saying "We support you in a world that's going through incredible change."
The

Need: Serve Customers More Effectively With Chatbots That Automate Common Issues 24/7

Varma uses live chat on their website and, in 2017, identified that their support agents spent a lot of time on recurring issues asked by their customers. In the interest of improving customer experience and alleviating menial tasks for their support agents, Varma wanted to:
automate frequently asked questions
free up customer service agent time for more demanding customer issues
extend service hours
increase customer satisfaction
Solution: Easy-to-Use GetJenny Chatbot With Advanced Language Skills
Varma evaluated the chatbot options on the market and, for 2018, chose to implement a GetJenny chatbot in their chat to resolve recurring issues automatically and to provide a 24/7 service to their customers.
GetJenny offered a number of distinct differentiators when choosing a suitable chatbot provider: it integrates fully with giosg, Varma's live chat provider; and it fully supports developing chatbots for the intricate Finnish language. "GetJenny is easy-to-use, can be deployed quickly and does not require technical skills," adds Tiina Kurki, Senior Vice-President, Pension Services and IT.
After a training period with their GetJenny customer success manager, four of Varma's customer service agents became bot whisperers and built their chatbot, Helmi, teaching her for about one day per week.
Two years on the job, Helmi is a part of the customer service team, and even has a place on the Org chart. Each week, all answered questions are reviewed and new answers are taught on a continuous basis. Bot whisperers now typically use only a few hours per week on maintaining Helmi.

GetJenny is easy-to-use, can be deployed quickly and does not require technical skills.
Tiina Kurki
Senior Vice-President, Pension Services and IT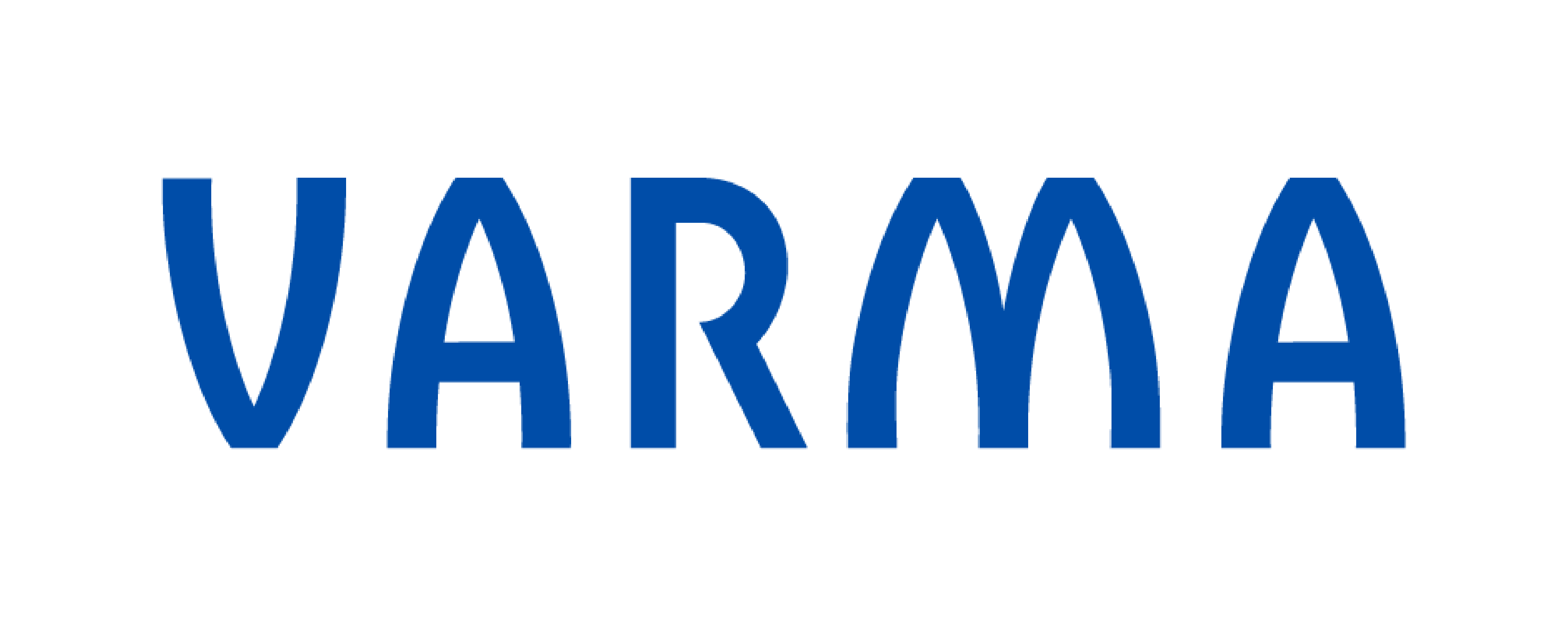 The Result:

Helmi Saves Time and Changes the Nature of Phone Service

Before Helmi went live, Varma's customer support team wanted to ensure that she could solve as many frequent issues as possible immediately. They compiled a list of 200 issues to teach Helmi and were able to hit an average of 60% automation in the first six months.

As Helmi interacted with customers more, the bot whisperers discovered 100 more common issues to add to her skills and now has an average 85% automation rate. Helmi's knowledge takes into account the complexities and richness of the Finnish language.

Helmi's ability to solve a vast number of pension issues or questions has resulted in more informed customers.
In Numbers: Helmi the Chatbot over 24 Months
What Changed

Change per month

Explanation

Chat Opening Hours

Increased 400%

Chatbot made customer service available 24/7

Time Efficiencies in Customer Service Team

Saved 330 hours (2 months per month)

Two service agents were able to move to other positions because of Helmi's work

Number of Chats

14.5% cumulative mean increase; an average of 93 more chats each month.

As Helmi is online 24/7, customer chats rose from 444 in February '18 to 2602 in January '20

Customer Service Automation (bot deflected customer issues)

Before Chatbot: 0%

Month Six: 63%

Month Eighteen: 76%

Month Twenty-Four: 85%

Helmi's automation rate grows steadily over the 24-month period, with weekly maintenance and even as new questions are added regularly.

Chat conversations with a human agent

Before Chatbot: 100%

After Chatbot: ~15%

Helmi handles an average of 85% of chat conversations.
"Our GetJenny chatbot, Helmi, complements our customer service department," says Tiina Kurki, "the quality of our telephone customer service has changed; common issues are reduced, while calls requiring human expertise are dominating."
Varma's customer service team has become far more efficient since the introduction of Helmi. As a direct result of GetJenny chatbot automation, they have been able to reduce their customer service team by two members, moving them to other, more demanding positions within the company.
Customers have also been pleased with the answers received from Helmi; "as a rule, really good feedback, and we must consider many of our customers are from a generation more used to phone calls than chat boxes on websites," Tiina adds.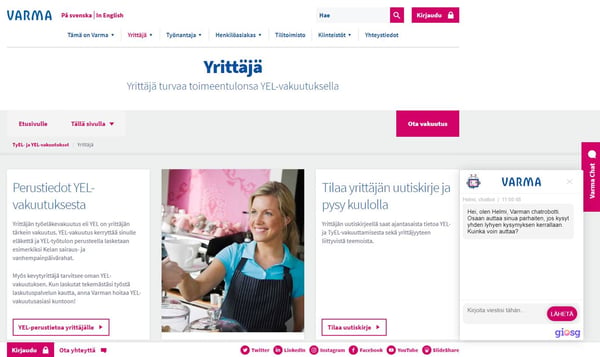 Varma's chatbot, Helmi, engages visitors on their website.
Future Plans
In December 2019, Varma piloted with a chatbot-only approach in their work pension customer service, without having the option of transferring to a customer service agent. Before the pilot they ensured:
that Helmi could answer most questions on her own (79% of all chat conversations)
to add more answers to Helmi so that she could serve a wider audience
After completing the pilot, Helmi's automation rate had increased to 85% as she had been taught to resolve more issues in the first answer to the customer, i.e., a higher first response resolution rate.
Varma's team also found that that customer service agents are happier from the increased responsibilities given to Helmi, and that customers did not notice a difference in the customer service they experienced, with the chatbot-only approach and no live chat backup.
They will be studying the results and examining possible future options for chatbot automation through 2020.
Follow in Varma's Footsteps, Request a GetJenny Demo
Read more Customer Stories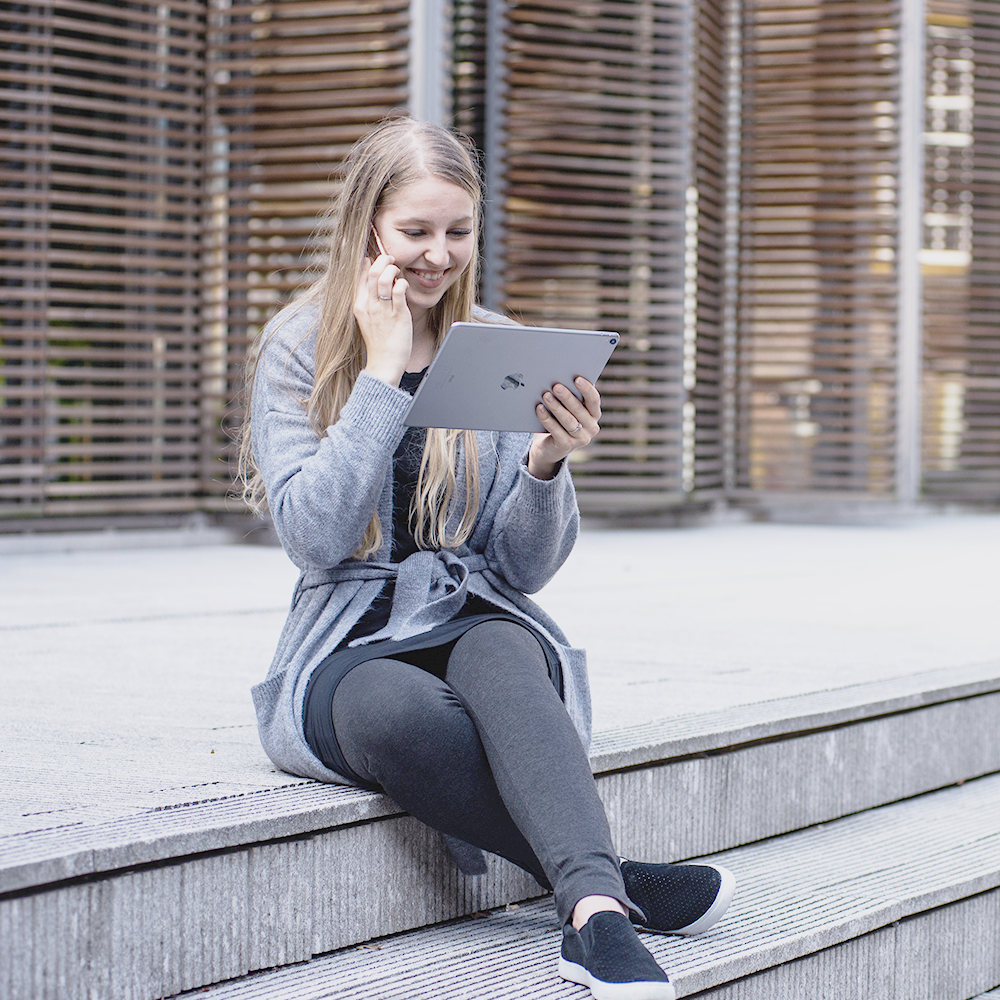 Improving the Overall Customer Satisfaction With a Chatbot
Learn how HOAS chatbot contributed to the improved overall customer service satisfaction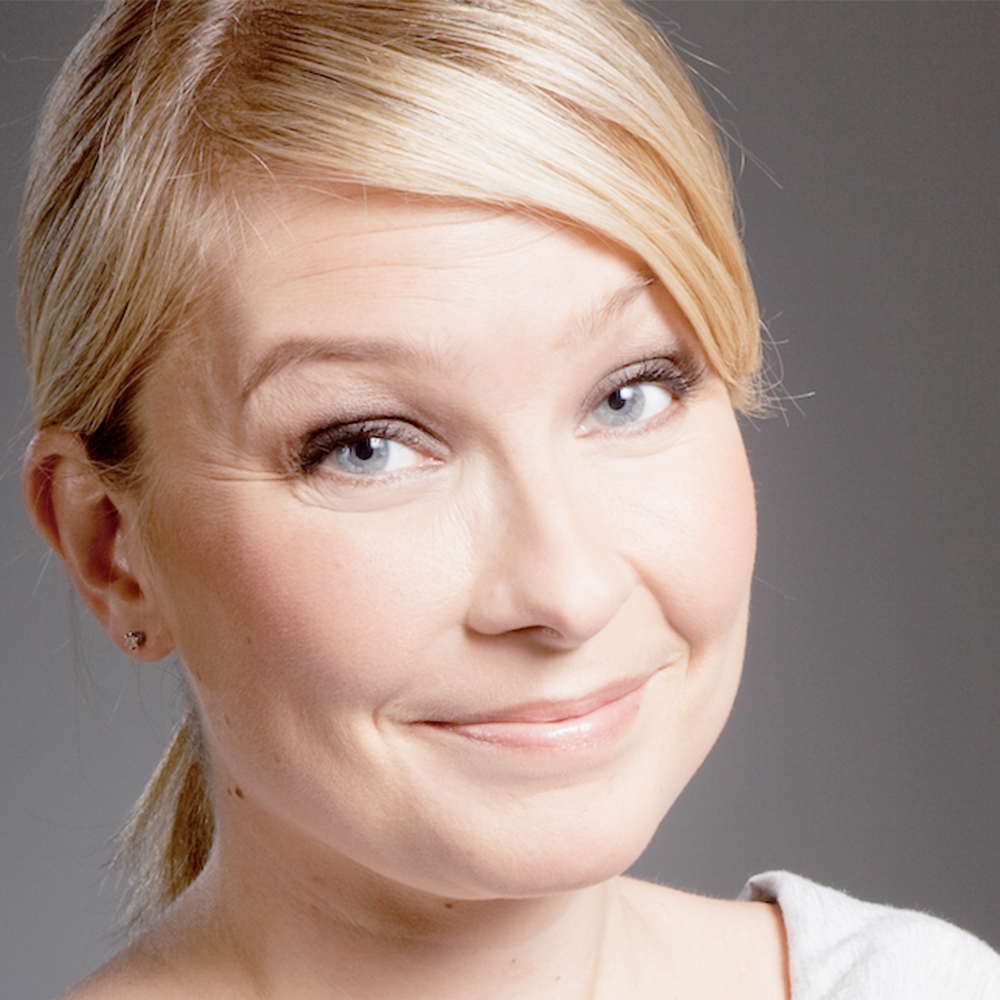 Finland's Largest NGO hits 90% Automation With a Chatbot
Yrittäjät choose GetJenny and hit 90% automation rate in only four months.