by Mikko Rindell
on March 28, 2019
Customer Service Chatbot Project: How to succeed?
For some time ago we organized a webinar about running a successful chatbot project for customer service operations. We made that recording available. In case you would like to more thoroughly understand the AI chatbot project components for customer service cases, I recommend you to invest 30 minutes in taking full advantage of our experts Annu Karhu and Ilkka Vertanen.
This blog article provides a summary of the webinar. You may find this useful for both repeating the webinar key points and gaining an overview of the usefulness of an AI chatbot for customer service.
Why include a customer service chatbot in your customer service team?
There are three main reasons for having chatbot(s) integrated into your customer service team. No matter the industry, customers have a very short attention span, and they want to get answers wherever they are, whenever they want and preferably from happy customer service agents or chatbots.
We live in a 24/7 world.
Messaging is our primary way of communication.
Customer service is very stressful.
This quickly leads to customer churn and customer service agent turnover. In this situation, chatbots can step in as coworkers for customer service representatives. There are two different ways customer service chatbots can join the team. First of all, a chatbot can help by:
Automating recurring tasks like frequently asked questions.
Freeing (human) resources for more meaningful and complicated tasks.
Shortening the customer service reply time.
Secondly, a customer service chatbot can complement the existing customer service team by:
Providing service 24/7/365 outside of the customer service office hours
Providing the answer to the customer's request automatically
By helping the customer to find the solution – for example by guiding the customer to the correct source of information (online)
In the webinar, we talked about our client LocalTapiola, whose customer service chatbot ChattiJenni has independently managed 87% of the chats. Our other client If Insurance has also reached over 80% automation level in their customer service chat. Check out this video to understand the case in greater detail:
GetJenny - How to manage digital transformation and incorporate AI to customer support? from GetJenny on Vimeo.
What to consider before the customer service chatbot project?
There is one question above all others you want to answer before you start the chatbot project: What are you trying to achieve with the chatbot? So stop thinking about your primary goal for the project that may, of course, differ based on the industry and the unique situation of the company.
Remember that even though you set a clear main goal for the chatbot project, it doesn't mean that you couldn't get the other benefits also. Clear definition of the chatbot project goal makes it so much easier to move through the different project milestones and questions you will need to get answered along the way.
A clear goal for the chatbot project usually is one of these:
Increasing sales
Customer experience improvement
Cost savings (which are though seldomly achieved. We are happy to talk about this in greater detail.)
Better employee satisfaction
After you have defined the goal, you then start to work backward from the target. Next step is to determine the model for chatbot-to-human cooperation. Recently we are witnessing more cases where chatbot is introduced as a stand-alone solution. A typical use cases are, e.g. testing purposes and new service or product openings. The most usual use cases are still different variations of chatbot and human cooperation depending on the setup of customer service function in the organization.
There are three usual models for chatbot-to-human cooperation in customer service context:
First line chatbot, second line customer service agent (transfers defined based on the company-specific case)
Shifts: e.g., customer service agent during the day, chatbot during the night
Chatbot only (where customer service agents work as a "bot whisperers" monitoring the conversations
Before moving forward with a chatbot project, there is still one more thing we encourage you to think about. What insights are you looking to get? The most common insights are:
How your customers adopt the new channel (be it a stand-alone chatbot or a chatbot implemented within existing live chat operations)
Gaining the first metrics related to the chatbot usage and learning from them
Use chatbots for understanding better how to deploy customer service agents
Happy customer service people are the ones creating outstanding customer experiences
Even though there is much automation to be done within the customer service operations through chatbots and related technological applications like robotic process automation (RPA), we at GetJenny believe that we humans will still play a crucial role in memorable experiences. Therefore it is essential to provide customer service agents with the best possible tools and support to make customers happy.
It will be a big transition during the upcoming years when large customer service organizations are making the shift from merely human-driven customer service to human-directed customer service, wherein customer service agents' role will transform to a function of a "bot whisperer" or some other type of a conductor of technology-assisted customer service operations.
How does a typical chatbot project look like?
This chatbot project example outline presented here is made based on our experience here at GetJenny. Our knowledge comes from 50+ chatbot projects with our large SME and enterprise clients. I let the project outline picture speak of itself.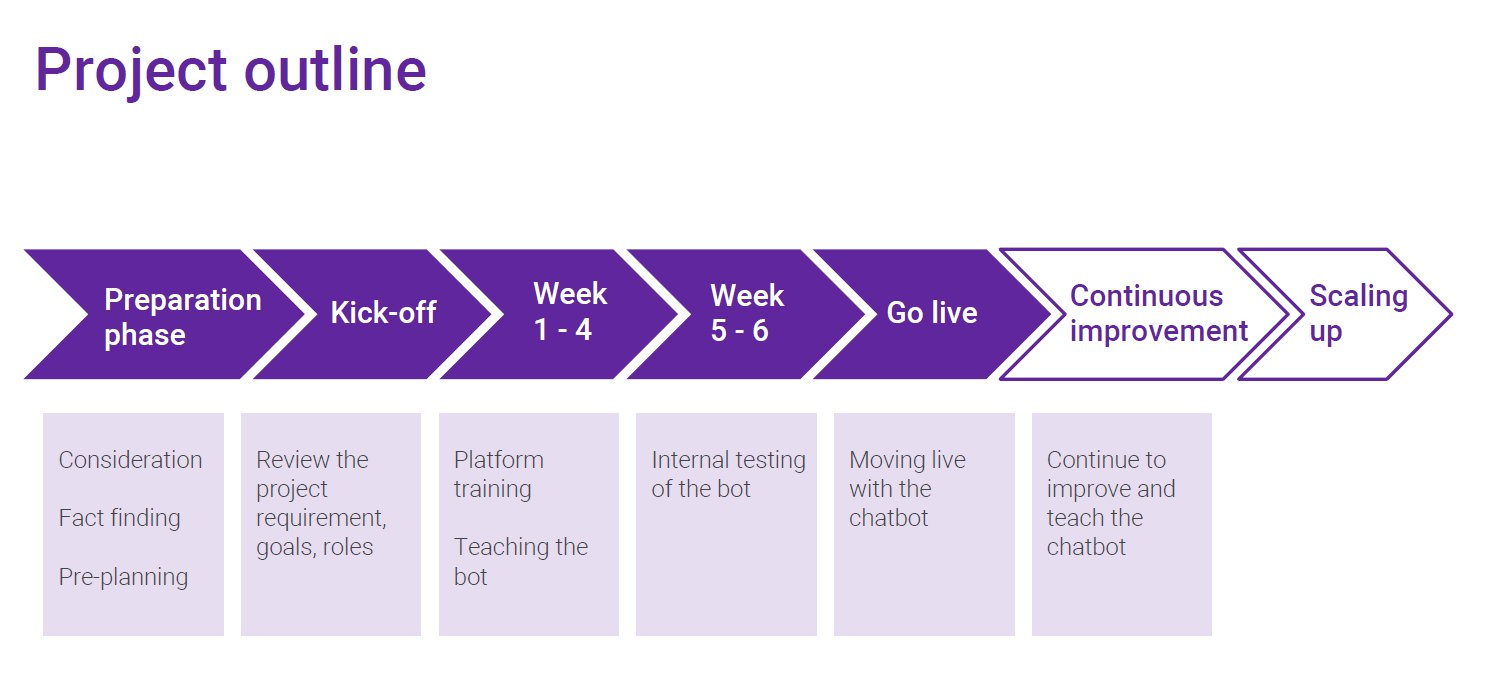 The time for the preparation phase of the chatbot project depends a lot on the company policies.
The chatbot project kick-off usually takes 2-3 hours depending on how much training we include at this stage. With larger customer service organizations the training needs may typically be more precisely defined latest at this point.
During the platform training (Weeks 1-4) our customer success team works together with your customer service team. GetJenny team is there to support you when your customer service organization trains the chatbot.
The internal testing (Weeks 5-6) of the chatbot is an excellent time to ask your organization as well to test the chatbot internally as to introduce it more widely in the organization.
After the internal testing period, we encourage our clients to go live early. This way you will start to get the actual input from the end users as soon as possible. After this, your customer service team will begin the continuous improvement with the chatbot.
Who is involved in a typical customer service chatbot project?
Usually, the Head of Customer Service is taking an active role at the beginning of the project. From the kick-off onwards there is a dedicated project manager and 2-3 bot whisperers (customer service agents) per chatbot. From GetJenny side there is a dedicated customer success manager to work together throughout the project.
For a standard project, the role of IT is very light. Usually, the IT department has its basic set of questions or requirements for the new software. During the go-live day, we may need help support from the IT when implementing the chat widget or live chat software to the website.
How to communicate chatbot project internally the best way?
Make sure everyone understands the reasons behind the chatbot project
Customer service agents are the ones who have the best knowledge about what should be taught to the chatbot
The purpose is not to replace any of the agents but allow them to use their time on more meaningful tasks.
The purpose is not just to improve the customer experience, but to improve employee satisfaction as well
In case you found this blog article and would like to see Jenny platform in use, please request a demo with our business development team.
Similar articles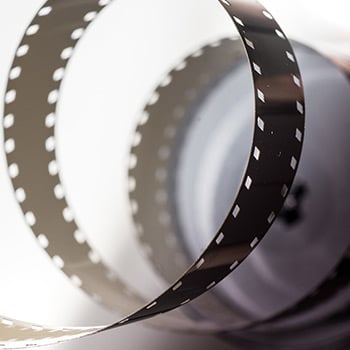 Chatbot Case Studies for Media and Entertainment Companies
How can media and entertainment companies keep up with customers? Learn how chatbots help service teams stay on track and serve customers better.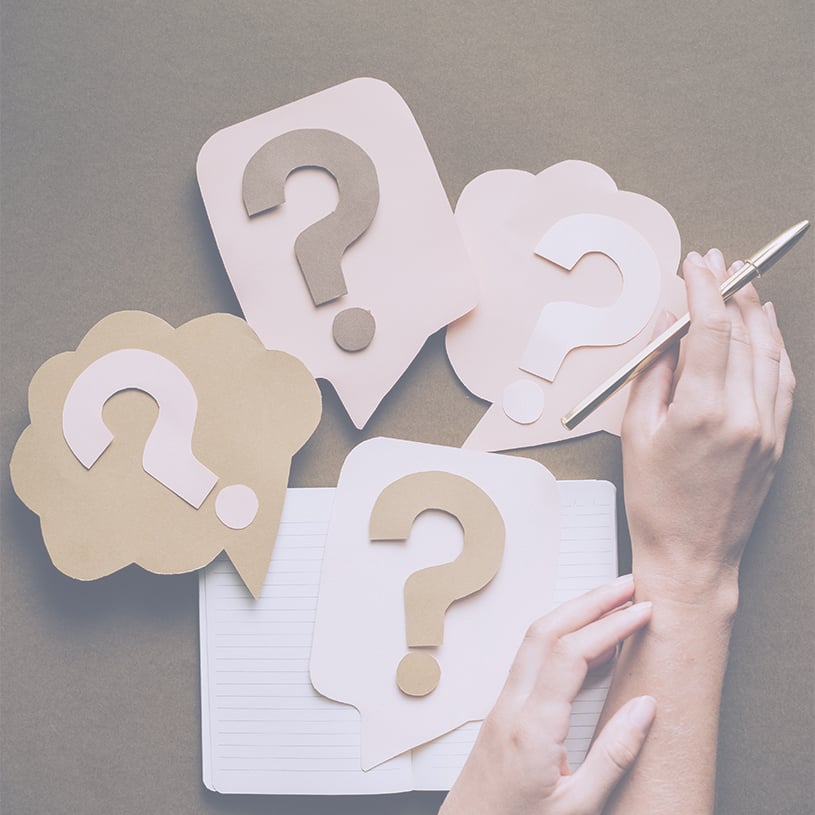 4 Things You Need to Know When Considering Chatbots
Ersin walks through the surprising opportunities potential chatbot customers miss in their chatbot project planning.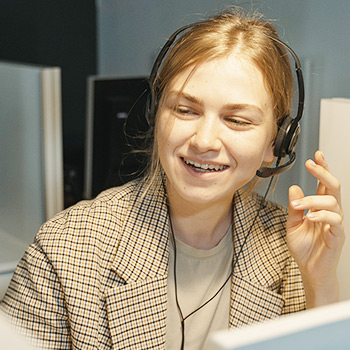 Must-Have AI Chatbot Features for Better Customer Experience
Are you considering an AI chatbot? This guide helps you ask the right questions to chatbot vendors about chatbot features when you compare options.