by Mikko Rindell
on December 11, 2018
Human-directed AI chatbot Jenny automates 2/3 of chat conversations at Slush
If you visited the world's leading startup event Slush this year, you probably noticed the organizers' desire to provide a first-class customer experience on the event site. For example, if you had a challenge finding a particular booth or area and asked for help from a volunteer, you most likely got escorted to the place you were looking for.
What you may not have been thinking of, is how this type of customer experience is created in an event with over 2000 enthusiastic volunteers. One thing is sure. It won't happen by accident. You need to invest some time and effort.
As pointed out in this HBR article you should establish and execute to a brand-aligned customer service intent. Often the organizations capture this brand intent in their advertising, but they ignore it in delivering customer service. This issue is one that Slush as an organization and a brand has managed to overcome.
Additionally, when aiming towards exceptional customer service as a brand, you will need to concentrate on the following things:
Providing brand-aligned human assisted-service

Providing brand-aligned self-service

Brand-aligning all touchpoints
At his point our human-directed AI chatbot Jenny steps in. The decision of employing Jenny platform over a year ago is a strategic decision to invest in customer experience throughout the digital and physical touchpoints.
During the busy Slush week, Jenny platform helped Slush to automate 67,6 percent of the conversation in customer service chat. What did this enable for Slush customer service organization? They had more people to secure great face-to-face customer service at the event. Additionally, the customer service agents in live chat team were able to concentrate on more complicated tasks and client requests.
From all the conversations only 32.4 percent were transferred to a customer service agent during the Slush week. If you want to learn more about our cooperation with Slush, please read further.
By the way, did you know that Amazon.com also noticed earlier this year that AI solutions should be human-directed to avoid discrimination in hiring new employees?
We here at GetJenny get consistently good feedback about our ability to provide a solution that involves the customer service team in the development of the AI chatbot capabilities from the very beginning of the project. Among many other things, this is why we want to highlight the term human-directed whenever introducing our AI chatbot platform Jenny.
Slush 2018 enabling better customer experience with human-directed AI chatbot the second year in a row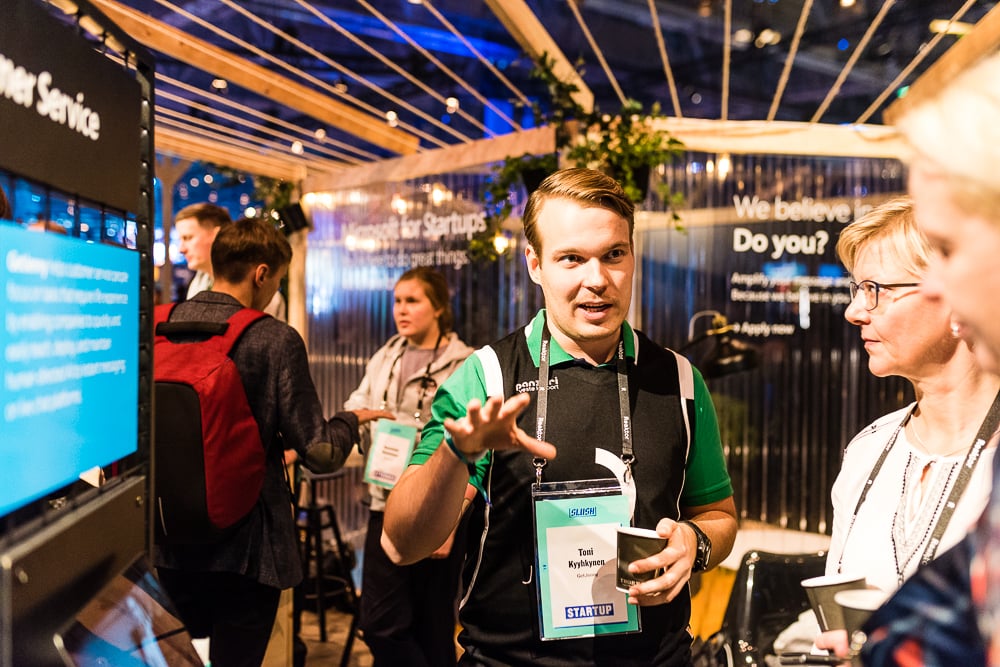 About 14 months ago we started our cooperation with Slush – the world's leading startup event. Slush connects startups and technology talents with top-tier investors, executives, and media. Therefore Slush wants to create a superb customer experience throughout their digital communications channels, including the customer service chat.
When starting the project, Slush received roughly a thousand live chat requests over the two-day event. For us, the first step was to analyze the customer service data from 2016.
Through the active participation of Slush organization and volunteers, we were able to achieve an automation level of 68% already on the first day of the event last year. In case you want to understand the project starting point in greater detail we recommend to read this blog post or to download our Slush case study where we explain:
How Jenny platform helped to manage repetitive customer service inquiries effectively?
How we implemented Jenny platform in less than two months?
How this project gave more time to focus on complex customer service
How did Jenny do during the Slush 2018?
This year Jenny handled automatically 67.6 percent of chat conversations during the Slush event week (between December 3rd and 9th) and transferred 32,4 percent of chat conversations to customer service agents working with customer care chat (Ninchat). So like in the year 2017, Jenny platform helped Slush customer service team to use more of their time on the event site.
One of the primary system updates from the year 2017 to 2018 was the integration to the content management system used by Slush. Through this update, Jenny was able to provide more accurate answers related to speaker details, for example.
Combining human intelligence with artificial intelligence – the winning formula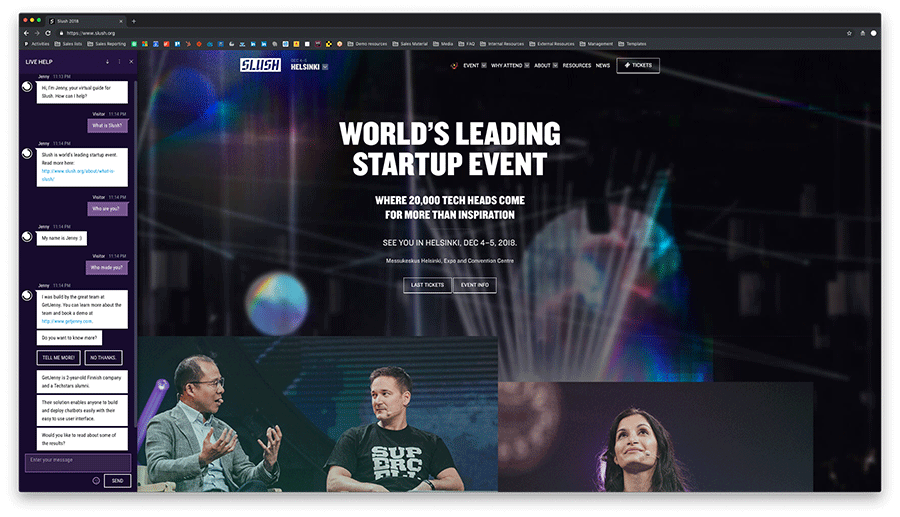 Even though the number of automated conversations with a human-directed AI chatbot service is essential for a modern and effective customer service organization, we want to point out that big part of the value created by using our solution comes from freeing up the human resources to provide better service throughout the selected touchpoints.
In Slush's case, our human-directed AI chatbot creates value in close cooperation with the powerful real-time communication engine of Ninchat and with the outstanding online presence created by Evermade.
Join the #BotWhisperer community to learn more about human-directed AI
Join the #BotWhisperer community, which is a knowledge sharing platform for the people who are developing and maintaining human-directed AI to instant messaging on live chat platforms. We are going to organize the community kick-off event in March 2019. Learn more and sign up for receiving the community updates here.
Here GetJenny CEO & co-founder Teemu Kinos explains the idea of #BotWhisperer Community to Microsoft social media team:
.@GetJenny is with us at #slush18! @t_kinos, the mic is yours! 🔥💪🏻 #microsoftxslush pic.twitter.com/2sVBrmG7yL

— Microsoft for Startups (@msft4startups) December 4, 2018
So, go and check out our community sign-up page and become one of the early members of our #BotWhisperer community..
Similar articles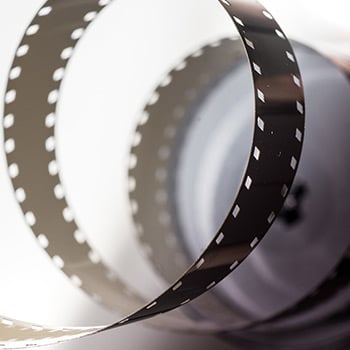 Chatbot Case Studies for Media and Entertainment Companies
How can media and entertainment companies keep up with customers? Learn how chatbots help service teams stay on track and serve customers better.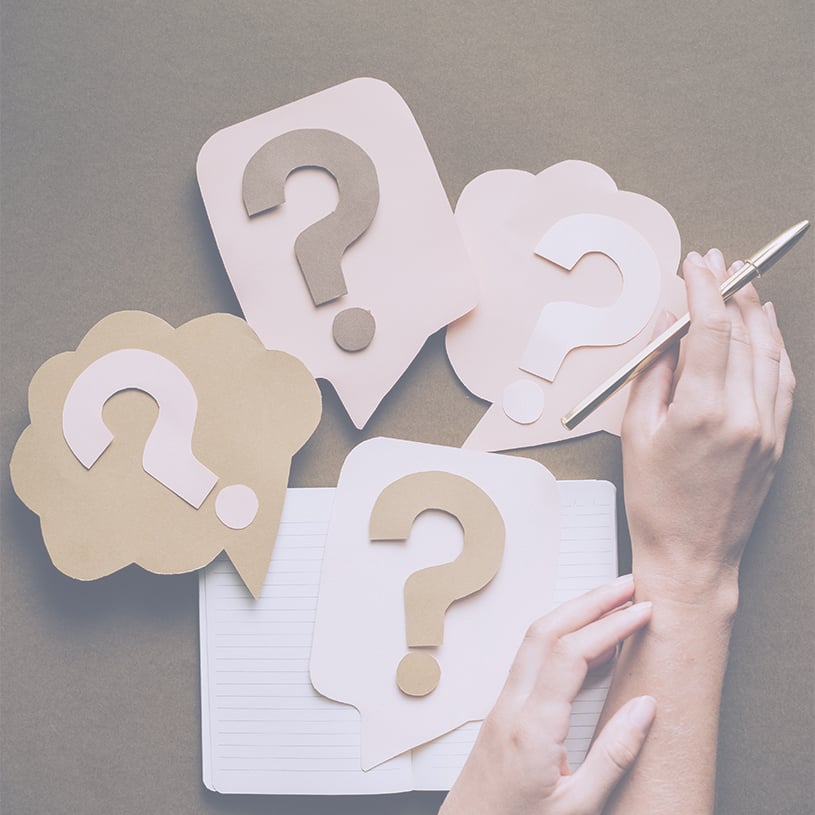 4 Things You Need to Know When Considering Chatbots
Ersin walks through the surprising opportunities potential chatbot customers miss in their chatbot project planning.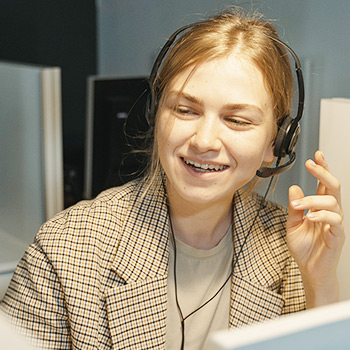 Must-Have AI Chatbot Features for Better Customer Experience
Are you considering an AI chatbot? This guide helps you ask the right questions to chatbot vendors about chatbot features when you compare options.