Chatbots bring new standards of efficiency and customer satisfaction for the insurance industry.
Customer service is going through a global shift. Customers expect fast responses to their queries, and 7 out of 10 stop doing business with companies, seeking better customer service from competitors.
While insurers use artificial intelligence to analyze risk and validate claims, they're also deploying more of that technology in customer-facing operations. Chatbots are now being used to assist both customers and service agents in many areas of interaction with the customers.
The insurance industry outspends 12 other major industries when it comes to investing in AI, according to the Global Trends Study 2017. Insurance invests an average of $124 million per company in this attractive technology, $54 million more than the average across all industries surveyed in the study.
Insurance companies are applying AI in a wide range of functions, including customer service, finance and accounting, marketing, sales, strategic planning and corporate development, and human resources.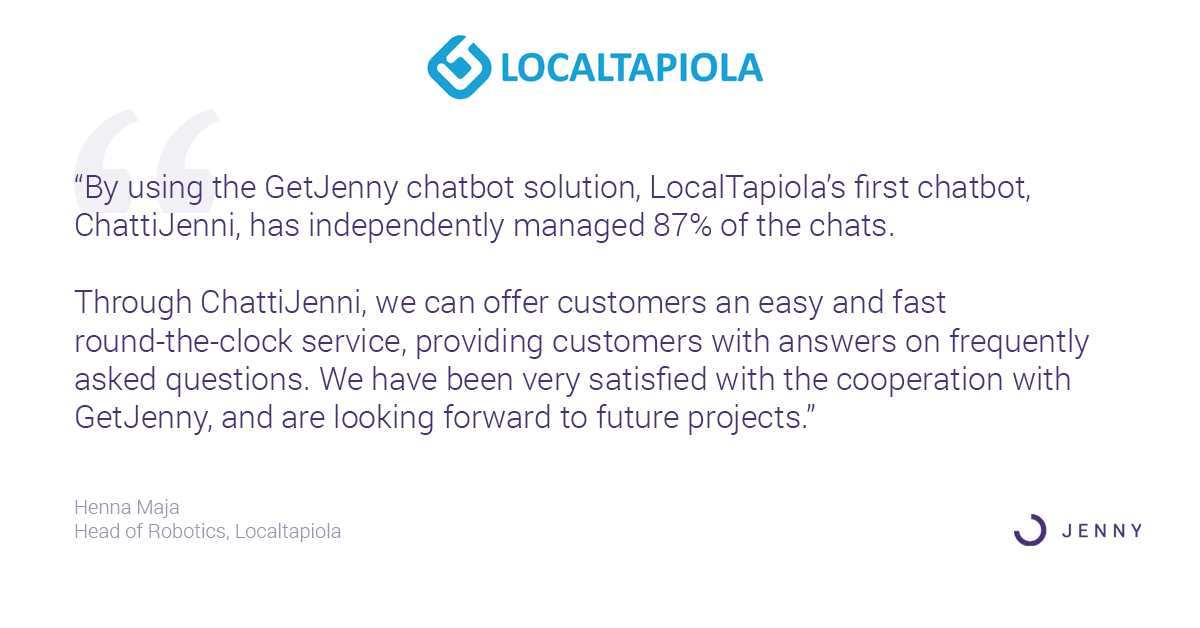 Customer service chatbots fill an AI gap for insurance companies in their customer-facing channels. Their high automation rate, especially for insurance companies, bring efficiencies to teams and deliver faster, more accurate customer service. Customers and companies alike benefit from this high automation rate and it boosts competitiveness.
Using Chatbots in Insurance
When choosing a customer service chatbot for an insurance company, make sure the chatbot service offers:
1. Industry Specific High Automation Rate
Every question answered by a chatbot is one less question your customer service agents have to deal with. Chatbots normally deliver first response and resolution times of less than 5 seconds, so customer get fast accurate responses to their queries. A high automation rate gives more customers this level of support and frees agent time to focus on more complicated queries from customers.
A good automation rate should be around 60%. But depending on your industry and investment into the right chatbot, you can get around 85% automation within a few months of deployment. When If Insurance started using a Jenny chatbot, it was able to deliver a 60% automation rate. With Lähitapiola Insurance, a Jenny chatbot reached an 87% automation rate.
2. Easy-to-use Admin Interface
Maintaining a chatbot should be done by the customer service experts in your company that is, your agents. Deploying an automation tool shouldn't require hiring a new team or getting IT involved in development and maintenance.
That's why you should look for a tool which is easily installed and maintained. No complicated coding, or mind-bending interfaces. You want clean and simple, so if a problem comes up, you can fix it straight away, from within your customer service team.
The Jenny chatbot went through an intensive comparison in a public tender by pensions insurer Keva. Ease-of-use was one of the factors closely examined. The Jenny solution won the tender. It also rated 10x easier to use than its competitors.
3. Training and Support
Picking the right chatbot provider for your company is all about what's included in the package. Training your customer service team how to use chatbots means you can reach optimum automation in a shorter time frame. It brings expertise into your team, so chatbots can be regularly maintained in-house. Extensive support keeps your team up to date on chatbot updates, and help is always there if you run into an issue with a chatbot like the example of Turva's chatbot giving a customer the wrong answer.
If you would like to learn more about the use of AI and chatbots in industries, please read our guide on AI and chatbots.
(This article was updated on 6 November, 2019 because of developments in chatbot services and technology. Extra knowledge was added that is relevant to insurance providers wanting use chatbot automation to modernise their customer service.)