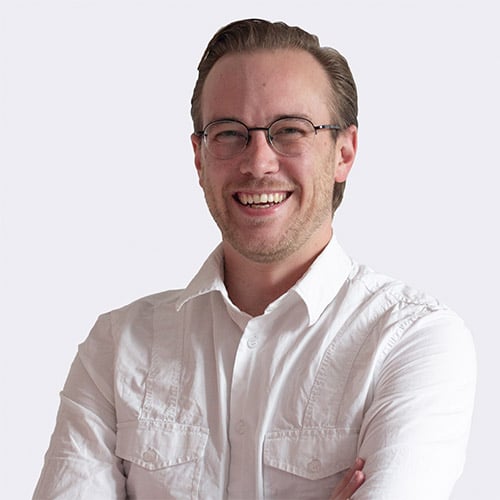 by Colm Ó Searcóid
on December 11, 2020
Balancing Automated and Hands-On Tools for Customer Experience
Let's get one thing sorted right off the bat: you need both online. And you need the right balance.
Hands-On tools like phone, email, contact forms and live chat are a must for unpredictable, more complex or lengthy discussions with your customers.
Automated, or self-service, tools help customers find answers to their questions without needing to talk to a support representative. Examples include FAQ pages, Knowledge Bases and Chatbots.
In the Customer Experience Trends report, we studied the ratio between Hands-On and Automated tools for 363 companies listed on the Nasdaq First North Growth market. This shows us that for the average brand to offer one automated tool, they tend to first invest in five hands-on, human resource intensive customer service tools.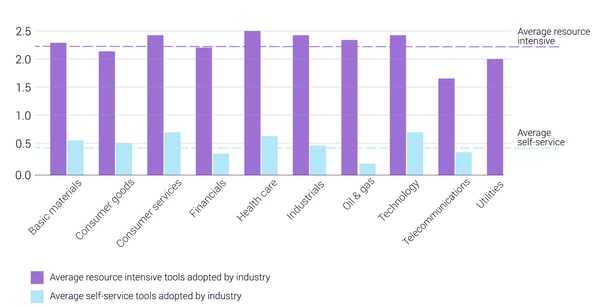 Source: GetJenny Customer Experience Trends Report
But these numbers are pretty meaningless without some sort of contextual benchmark. Luckily, we also ranked these Nasdaq-listed companies for CX using 9k+ data points. And we came up with the top twenty companies for CX.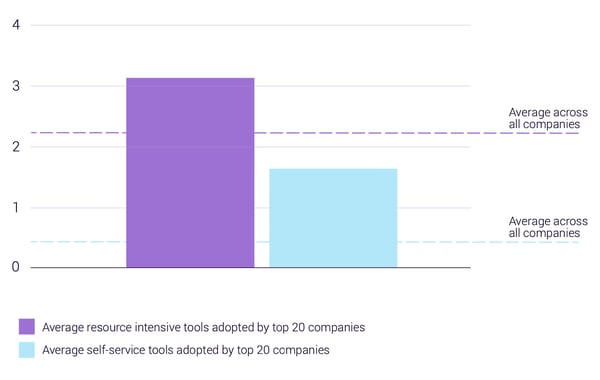 Source: GetJenny Customer Experience Trends Report
The top twenty companies on the Nasdaq First North have a much closer balance when it comes to how many resource intensive tools they use compared to automated ones. For every two hands-on tools a top company uses, they use one automated solution.
Further Reading: The Customer Experience Trends Report.Your essential benchmark guide to improving Customer Experience in 2021.
What Does the Data Say About Balance Between Automation and Hands-On Tools?
Digital transformation is a buzzword from the last few years, and since COVID, that trend isn't going away. As more customers opt for digital channels in communication and purchasing, automation has made huge headway. Automation cuts costs, and serves more customers simultaneously.
But is automation always the solution?
Bain & Company published their executive survey on customer experience tools in September 2020. In their summary, they make some defining points about choosing and using the best tools:
keep your current tools active when testing new solutions
perform in-market tests, use the tools in the real world to get real-world results
use specialised micro-services like Live Chat or Chatbots that connect with each other and your databases through APIs
McKinsey highlighted the importance of "hybrid" customer journeys in their report on B2B Customer Experience. Broken down, they conclude that customer-centric brands should:
The roles of automated versus hands-on support are becoming clearer. Automated support doesn't just exist to remove simpler tasks from customer service staff.
It also exists as the front-line support. Human agents are no longer "routing" issues between departments. They become specialised: analysing customer issues and giving personalised and relevant solutions. And automated services give teams time to mature for this customer-centric form of support.
What Role Do Hands-On Tools Play in Today's Customer Service?
Phone, email, live chat and contact forms are still highly relevant for in-depth customer service.
Each of these channels require a human on the other end of the line, though the response rate often differs. Phone and Live Chat usually have the fastest response rate, and allow for discussion -- often useful when you're trying to work out an issue in real-time.
This is especially useful for customers who have an immediate issue they need fixed fast. It's critical, complicated and if you examine your customer's state of mind, they might be out of their depth here.
In these instances, you're looking for human interaction to ensure the fastest and most comprehensive customer support.
The problem is that this approach doesn't scale.
You can provide exceptional, personal service for customers as long as you have enough staff on the line to deliver it. As queues grow longer and waiting times increase, you're not just dealing with more frustrated customers, you're also dealing with employees who are overworked and unable to provide the timely and useful service required.
This pressure needs to be removed.
Further Reading: What is a Chatbot? The definitive guide to different chatbots and which delivers the best Customer Experience.
Are Automated Customer Solutions the Answer?
Automated tools are scalable. They relieve pressure by definition.
Chatbots, knowledge bases and FAQ pages are all information goldmines that require very little human involvement from a company resource perspective. It's a matter of build once, serve many. And maintain to serve more.
From our own data, it's clear that across industries, around 60-90% of customer issues can be automated or deflected. These are simple queries that take a minute for human agents to answer, but the sheer volume inflates queue length and response time for contact centres.
Knowledge bases and FAQs are amazing resources for many simple customer service issues, but their usefulness is limited by their length. An FAQ page ten pages long takes time to go through, and accessing a knowledge base often requires multiple clicks.
For chatbots, this knowledge is contained in a simple window a click or less from any page on your website.
Even though you can add integrations to your automated tools and improve connectivity between your services, sometimes it just doesn't replace the need for human support.
The value of automated support is crystal though. For example, Conversational AI chatbots cut waiting times, almost entirely eliminate repetitive grunt work and save 330 hours of human work per month, even with increased customer use. All while maintaining high customer feedback.
Hybrid Support: The Answer to Automated vs Hands-On Tools
Bain & Co. and McKinsey clearly agree that there is a place for both Hands-On and Automated solutions in the optimal customer experience. Data from GetJenny corroborates this with real-life customer stories.
For a long time, we've been promoting Human-Directed AI, the hybrid customer experience where service professionals work alongside machines to provide top-notch support for customers. Let's take the symbiotic example of Chatbot and Live Chat.
Live Chat and AI Chatbots are very similar tools from a customer perspective. They both:
use text-based chat for real-time communication
are available throughout an entire website, or can be customised for specific pages
have a higher response time expectation than traditional services
can share rich media to help customers (links/images/videos)
give personalised service by connecting to databases like CRM systems
Live Chat needs to have people on both ends. This is positive, because realistically, the best customer experience you can offer is tailored conversations with human experts who can react to customer needs and expectations in real time.
It's also unrealistic to think that your team can give unparalleled customer experience using only people. Especially as you grow digitally.
Numbers time: assuming your average live chat conversation is 3 minutes long, and each of your agents can handle 3 conversations at the same time, a single agent might handle about 420 customer issues every workday. Does that volume for a single person sound like they could offer exceptional customer service each time?
With a chatbot in the mix, an agent would deal with only about 84 of those conversations. And those are filtered to be the more complex customer issues. The ones that need the extra human touch.
Chatbots, especially AI chatbots like GetJenny's, are optimal for providing hybrid customer service.
They integrate with Live Chat solutions, deflecting simple questions from human agents while still giving all customers a conversational experience. The result is faster response times for all customers, faster resolution times and better overall service.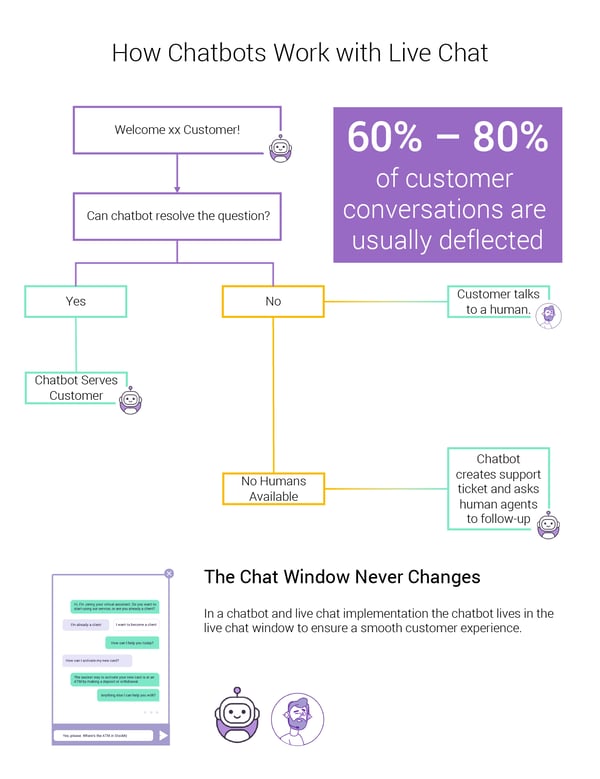 Source: GetJenny
Choose Data-Driven Hybrid Customer Service
It's not just about solutions that work together.
A real hybrid system should give you actionable data to improve your overall customer experience. Gathering and collating this intelligence can sometimes be a challenge, especially when relying on individual notes from your call centre, live chat team and website analytics.
If you want to set up a live chat team, for example, you want to know the volume of issues that will come through chat. You also want to build playbooks for agents, so you need to know the nature of these questions.
A chatbot-first implementation takes the learnings from McKinsey and Bain & Co. to heart. The right chatbot solution will gather all the questions real-life customers ask into one place, so you can make data-informed decisions about the questions you want answered by automation, and which are more important for human agents to engage with.
This helps you plan and build an efficient hands-on team that works in tandem with self-service to engage customers and rapidly solve their issues, every time.
TL;DR
The increasing demand for immediate, high quality customer service cannot be solved by humans or machines alone.
McKinsey and Bain & Co. both agree that the hybrid approach is best for an optimal customer experience. The main takeaways:
solve common problems with machines and complex ones with humans
make sure customers can always speak to a human
stop theorising: test solutions in the real world and gather real data
use tools that integrate together for streamlined experiences, both for customers and for you
Chatbots and Live Chat are a perfect example to help you improve customer experience from both a hands-on and automated perspective. Chatbots gather actionable data while serving customers with frequent issues, while human agents help customers with more complex needs.
For more insights on how companies are gearing up their customer experience, check out the Customer Experience Trends report.
Or if you'd like to learn more about how AI chatbots can serve your needs, have a chat with my colleagues. No commitment required, we're here to help.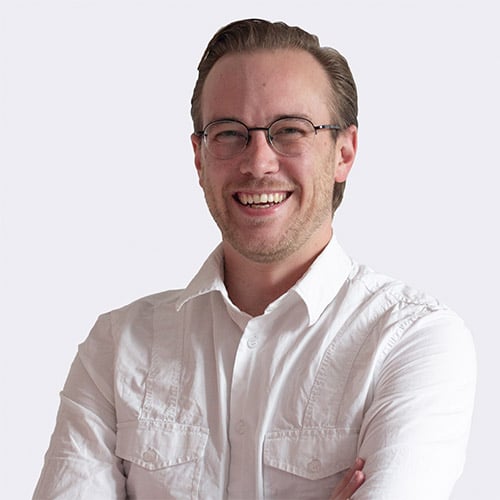 Champions the importance of amazing customer experiences and loves building meaningful interactions between customers and companies. Colm has no favourite movie, because "it depends on the genre", and is experimenting with growing his own food.
Similar articles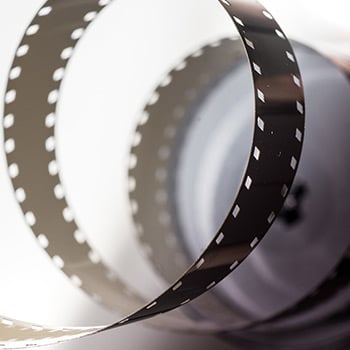 Chatbot Case Studies for Media and Entertainment Companies
How can media and entertainment companies keep up with customers? Learn how chatbots help service teams stay on track and serve customers better.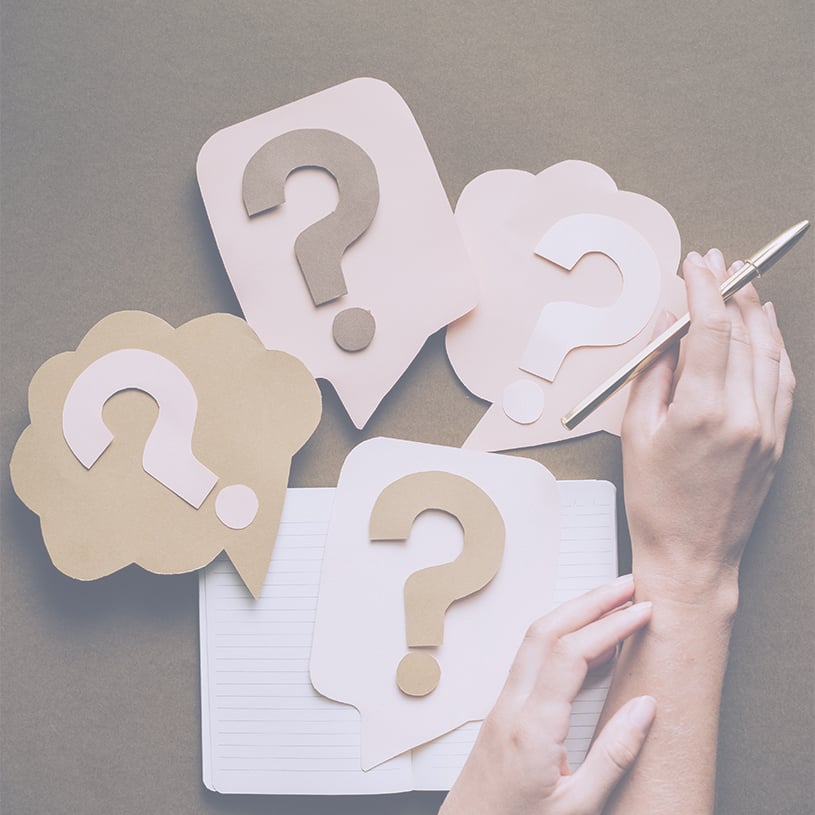 4 Things You Need to Know When Considering Chatbots
Ersin walks through the surprising opportunities potential chatbot customers miss in their chatbot project planning.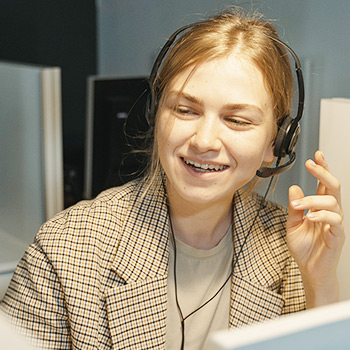 Must-Have AI Chatbot Features for Better Customer Experience
Are you considering an AI chatbot? This guide helps you ask the right questions to chatbot vendors about chatbot features when you compare options.