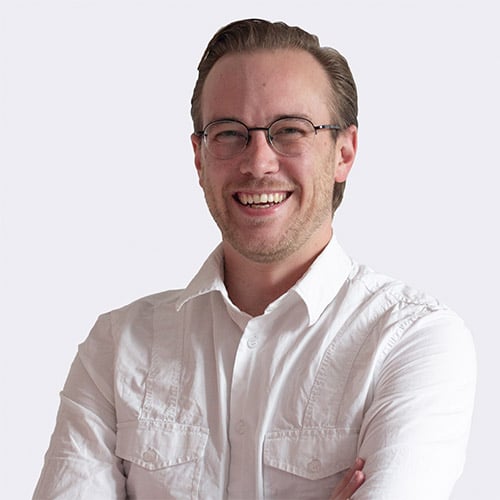 by Colm Ó Searcóid
on February 18, 2020
Chatbots vs Live Chat: A Guide to Improving Customer Service
Introducing a chat window on your website is a no-brainer. It increases engagement and adds conversational elements to your brand. Chat window solutions come in two options to compare: live chat or chatbot. Which one impacts your brand's service, in the shortest time, with the lowest overhead?
Spoiler alert: it's chatbot. But let's find out why.
(Is watching easier than reading? Check out this 30 minute video recording of our online event on this subject.)
Customers Want an Efficient Self-Service Solution
Instant communication is expected from brands. First response times are a crucial indicator of customer service quality. Combined with resolution times, brands need to deliver high-quality, consistent answers to customer questions without skimping on speed and efficiency.
PriceWaterhouseCoopers calculates that a third of customers stop doing business with a brand they loved after one bad experience.
Chatbots Bring Speed and Efficiency to Your Customer Service
Chatbots are programs which automate (or deflect) common questions customers have from human customer service agents. They vary in complexity and can answer questions from thousands of visitors at the same time.
Simpler button bots present customers with common questions to choose from, answer those, and can guide them, using prepared buttons, through more questions using a decision tree. This can work great for lead generation and qualification, or for creating an interactive FAQ in your chat window.
Advanced AI chatbots allow customers to type whatever they want into a chat window. Using a combination of keyword matching and natural language processing they recognise the customer's intent and answer their question, usually with a pre-prepared answer. It is possible for some AIs to create their own answers, but the technology is nowhere near advanced enough to guarantee the answer won't damage your brand. For this reason, companies usually prefer to have more control over chatbot answers.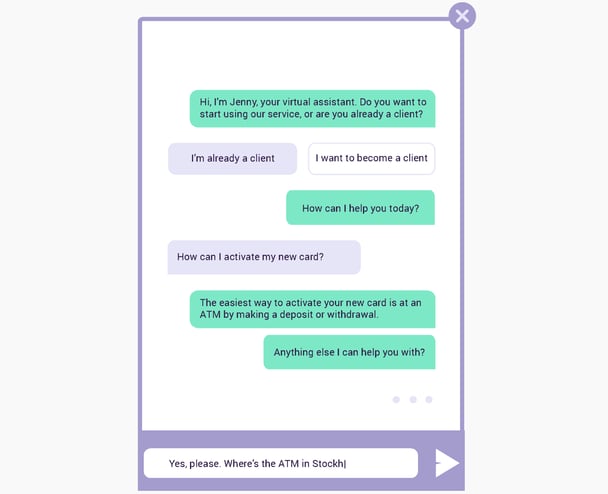 An advanced AI chatbot using buttons, keyword matching and NLP.
If an AI chatbot cannot answer the customer question, it is programmed to explain this and, through integrations, transfer the customer to another communication channel.
Talk to Real Humans With Live Chat
Live chat is a different type of chat window program. It gives customers a chance to chat with human representatives (agents) in real-time. This instant messaging gives customers answers quickly and easily, and means that brands can have personalized contact with more customers in less time.
It's generally recommended that customer service agents handle no more than three conversations with customers at the same time. Although it's possible to handle more concurrent conversations, it will potentially overwork the agent, and increase agent churn.
Live chat usually requires a high investment to get started because it can require hiring more customer service agents, with the training costs involved.
Frequent Issues Overwork Human Agents Who Should Resolve Critical Issues for Customers
The number of frequent issues customers ask is arguably the biggest downside to a live support channel.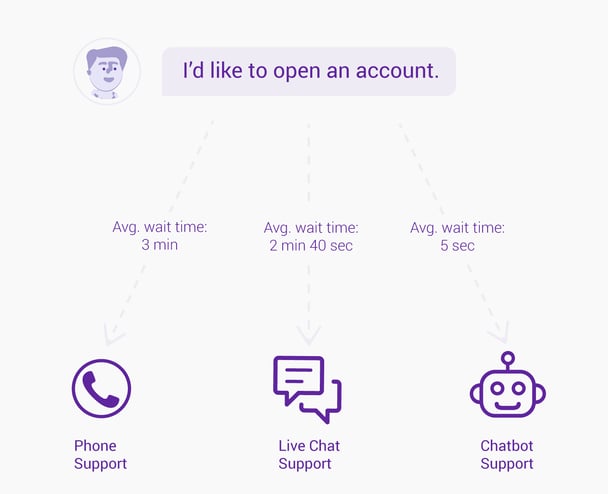 Comparing average response times for a simple issue.
On phone, email, or live chat, customers with frequent issues increase wait times for customers who have more complex, perhaps critical questions that need answers.
Customer service teams can spend up to 15 hours per day on frequent questions from customers. We checked. That's 330 hours a month. Or 200 full days a year on questions that one chatbot can deflect, consistently, concurrently and around-the-clock, meaning customer service agents can concentrate on, and solve complex customer issues.
Better response and resolution times. Better experience.
In a First Chat Implementation Do You Need Chatbot or Live Chat First?
Bottom line up here: if you want to automate your customer service and you don't have a chat window yet, get a chatbot first.
"Start with chatbots to collect easy wins that improve your CX. Learn what you need for a successful live chat launch and make your end goal a combination of live chat and chatbot to significantly improve customer experience."

- Ilkka Vertanen, Sales Director at GetJenny, Chat in CX Evangelist
1. Chatbots Collect Data in a Measurable Way to Give You an Idea of Chat Volumes and Question Types
Every interaction your customer has with your chatbot is logged. For every answer you teach a chatbot, you get data on which questions are answered and which are not. A general rule of thumb is to teach a new chatbot about 50-60 answers to questions your team believes are frequent. Once the chatbot is live and interacting with customers, you will quickly learn the questions that customers ask.
Using chatbots to gather your frequent questions data can swiftly reduce human workload. At GetJenny, we've seen customers automate 40% of questions in their first month, increasing to 74% three months later.
A live chat first approach without frequent questions data potentially leads to hiring new agents, or training and retraining existing agents, without a good idea of the demands live chat has on your team. Learning to use chat this way costs more time and money.
2. Reduce the Work of a Live Chat Team With Chatbots
Frequent issues are repetitive by nature. There aren't always many of them. You could automate 4500 out of 5000 issues a month, but out of those 4.5k messages, there could be only about a hundred unique issues.
This is what makes chatbot automation so valuable. When a chatbot learns the frequent questions, it cumulatively eases your helpdesk workload.
In other words, when a service agent doesn't have to answer the same questions eight times out ten, he can focus on the two complex issues that really need his attention.
What's more, anyone on your service team is capable of making sure your chatbot is up-to-date all the time. That's why a chatbot builder with a quick learning curve and easy-to-use interface is the clear solution.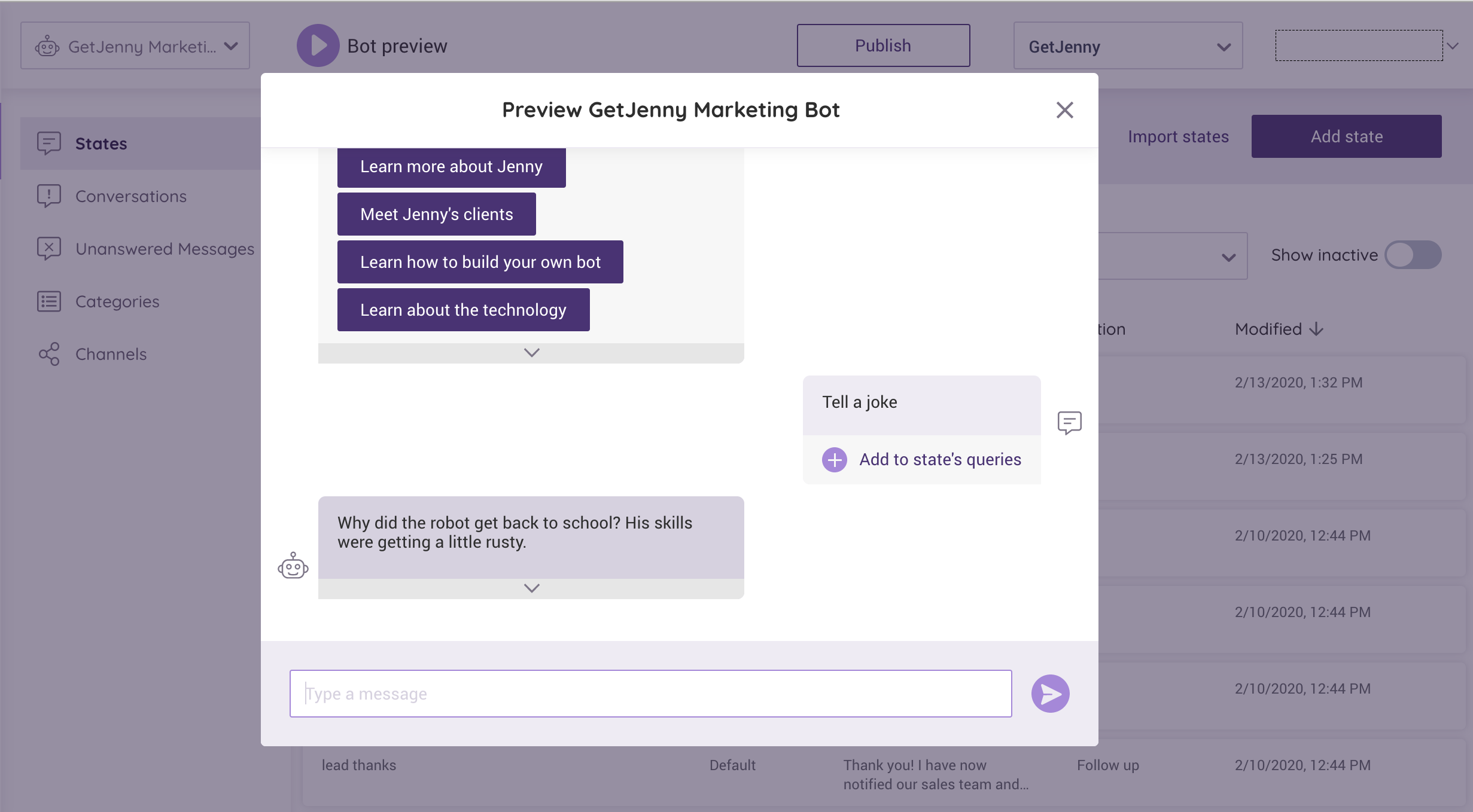 Build and test chatbots easily with JennyStudio.
3. Chatbots Help You Efficiently Plan Effective Live Chat Teams
Planning a whole live chat team is a long and arduous process. Whether hiring an entirely new team or transferring existing knowledge from other customer service areas, tailoring a live chat team requires some guesswork:
How many of my service requests will transfer from phone and email to chat?
What sort of chat load can my live agents handle?
How long will it take to figure out the frequent questions we need to automate with chatbots?
Bringing a chatbot online before your live chat eliminates this guess work. Within a couple of months, you can differentiate the frequent issues and use chatbot automation to gauge the number of complex cases.
This data is extremely valuable when efficiently planning your live chat team.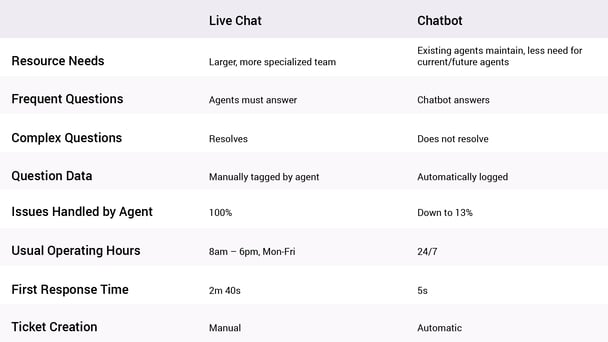 Conclusion (TL;DR)
Customer service chatbots are the first strategy to bring conversational support to your help center. They relieve traditional support channels, provide an interactive self-service solution for your customers. And chatbots help you efficiently plan for a live chat team.
Get chatbots working for you. Collect the data you need to build more efficient, productive teams. Start by comparing GetJenny's chatbot solution packages.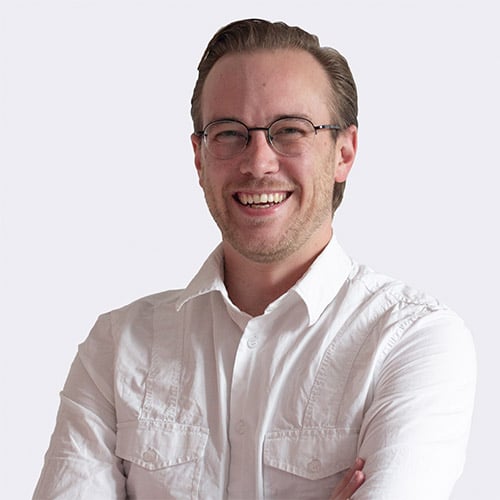 Champions the importance of amazing customer experiences and loves building meaningful interactions between customers and companies. Colm has no favourite movie, because "it depends on the genre", and is experimenting with growing his own food.
Similar articles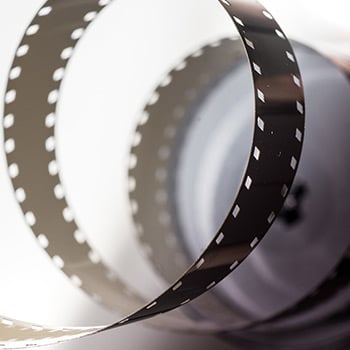 Chatbot Case Studies for Media and Entertainment Companies
How can media and entertainment companies keep up with customers? Learn how chatbots help service teams stay on track and serve customers better.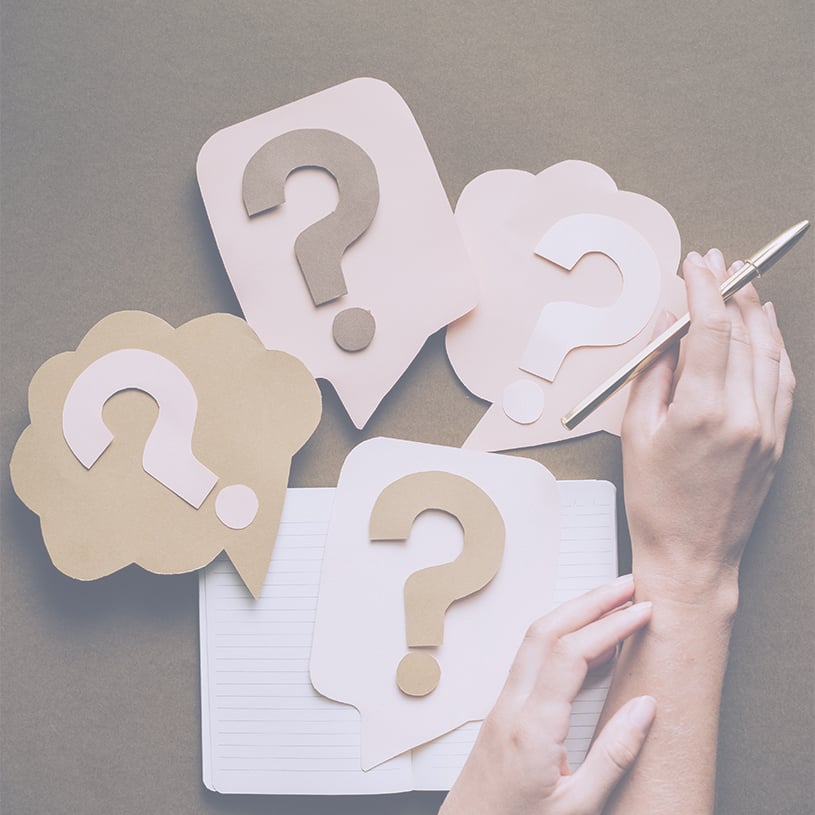 4 Things You Need to Know When Considering Chatbots
Ersin walks through the surprising opportunities potential chatbot customers miss in their chatbot project planning.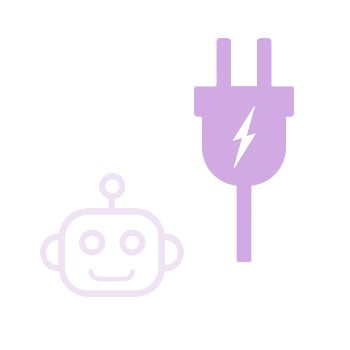 Infographic: Customer Experience in the Energy Sector
Key insights for customer experience in the Energy and Utilities sector in a handy one-sheet. Get the facts and numbers in one place.