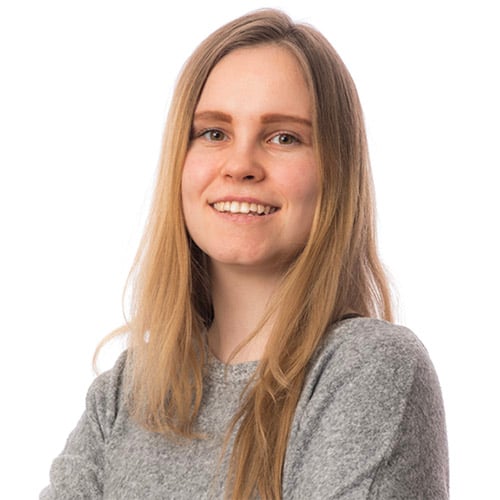 by Anna Veselova
on July 29, 2019
A guide to choosing the right customer support chatbot
Customer support can run up to 60% of business expenses, especially if you have a lot of customers. Luckily, modern software is here to help.
As your business grows customer service is taking up more and more time and money. With more visitors coming to your webpage your customer service agents' workload grows dramatically. This can lead to a situation when they can't any more deal with all queries fast and accurate, they start leaving questions unanswered or give unclear generic answers that make many clients just mad.

If you don't hire more customer service agents at this point, your existing ones will spend all their time answering the same questions and missing valuable selling opportunities. You may end up not generating enough new clients. Even your loyal existing customers may decide to switch to a competitor who can provide better support.
Luckily, delivering exceptional and remarkable customer service is not that hard if you use the power of modern software. For example, we found out that up to 80% of chats with customers are highly repetitive – and if you have sufficient technology, you can automate those conversations. In many cases, you even don't need to hire more employees!
Artificial Intelligence, when it comes to customer service, is extremely effective in boosting the efficiency of customer service performance and saving costs in hiring more people. It has been predicted that by 2020 30% of all B2B companies will be employing AI to augment at least one of their primary sales processes. Are you already excited to include an AI to your customer support?
What you can achieve by implementing an AI chatbot?
First of all, chatbots help to meet customer expectations by stepping in when humans can't. A chatbot will answer your customers all round the clock, and even on Christmas Eve, without any additional cost.
Secondly, chatbots can free up valuable human time for more complicated tasks. Your customer service agents can now devote more time to answer complicated queries, help customers with their issues, identify upsell opportunities that can lead to increased revenue for your business.
Finally, chatbots help to reduce agent churn by letting them do more meaningful job.
If you want to learn more about the return on investment for a customer service chatbot, please take a look at this webinar: How to approach ROI related to chatbots? There we give real-life examples of how much does it cost to implement a chatbot and how much money can your company save by doing this. In 40 minutes you'll get enough information to calculate the ROI of your chatbot project.
But the results and return on investment from your chatbot project are highly dependant on which chatbot platform you choose to build a customer service virtual assistant. If building a chatbot requires too much time and money, instant IT department help and a long training process, then seeing first results may take over a year. And getting ROI would be even a longer process…
That's why the top questions to ask when choosing a chatbot platform are:
Time needed for training your employees;
The average time needed for a chatbot to go live;
The average time needed for a chatbot to automate 50% of all incoming queries. (or 80% - just set your goals here);
Who should be responsible for building a bot: is it an IT department or your customer service agents?
Can a chatbot be built into your existing live chat tool? Or can you implement it as a widget?
How much coding will a chatbot implementation project include?
Jenny platform
What makes Jenny chatbot special? We concentrate on customer value instead of overwhelming customers with chatbot hype. In developing our chatbot platform we focus on what is most important for YOU:
Ease of use. Your customer service agents will be able to teach the bot by themselves right after a short (1,5 hour) training that our team provides you for free.
Fast results. Jenny chatbot can usually go live in a couple of weeks, and it starts bringing value to your customer support team from the very beginning.
Different integrations options. If you already use a live chat tool, just simply integrate Jenny chatbot into it. You don't need to change your current technology stack! If you haven't got a live chat, we will provide Jenny widget that you can easily deploy to your website with our help.
In any industry and for any use case: our clients are able to automate up to 80% of all chat conversations within a month of deployment!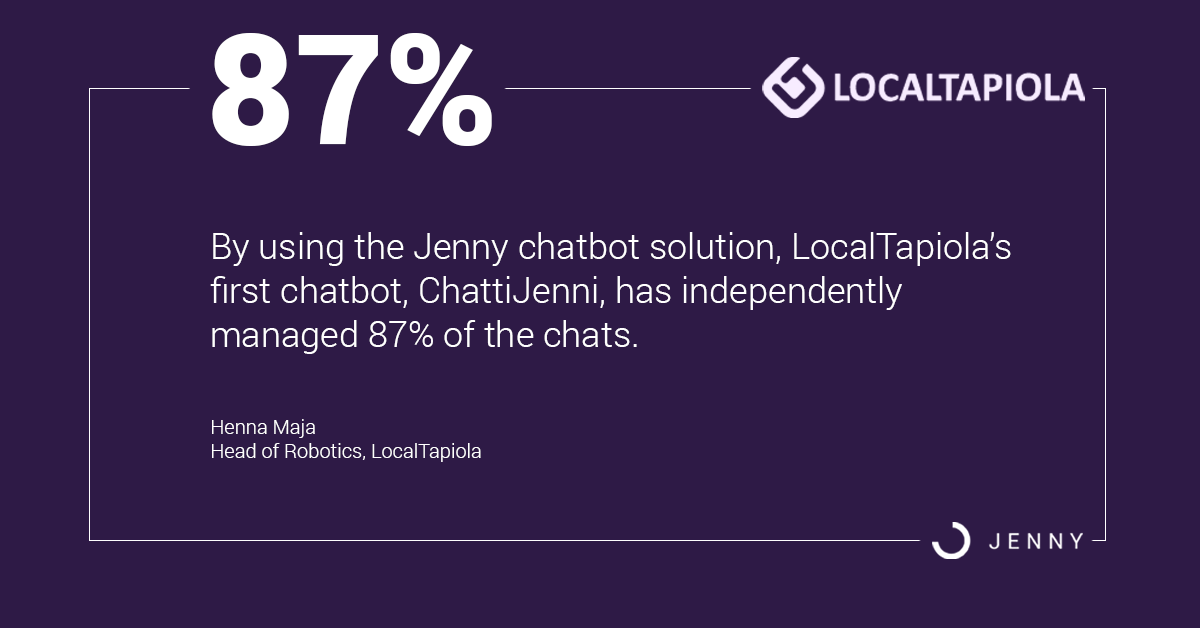 Read what our other clients say about working with GetJenny here.
Customer Service Chatbots landscape
A chatbot industry landscape is developing so fast, that new players appear almost every month. With so many options to choose from getting the right tool requires a lot of research and additional work. We understand this. And we understand you would be interested to check other chatbot providers before closing the deal. To make this process easier and faster, we want to give you a list of chatbot providers you should definitely take a look at before making the decision.
Feel free to confirm we're the best option for you by checking out our competitors :)
Other chatbot providers:
1. Acobot
2. Ultimate.ai
3. Boost.ai
4. Liveperson
5. Chatfuel
6. Botsify
7. ....
Get access to the full list of top chatbot platforms of this year - download our e-book: The best tools and technologies in customer service, edition 2019.
Improving and developing your customer service is a complex but exciting process, especially in our rapid 21st century. From call center and email support to social media communication - all these tech landscape can either help you build an exceptional brand either ruin all your efforts in doing so. If you're willing to develop your customer service from every angle, we suggest you to take a look at this e-book: The Best Tools and Technologies in Customer Service, edition 2019.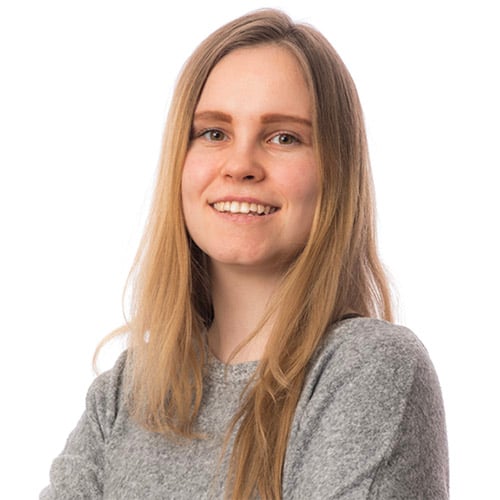 Growth Marketing Manager @GetJenny
Similar articles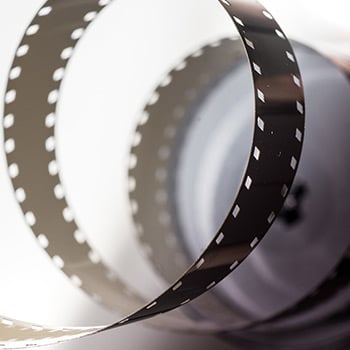 Chatbot Case Studies for Media and Entertainment Companies
How can media and entertainment companies keep up with customers? Learn how chatbots help service teams stay on track and serve customers better.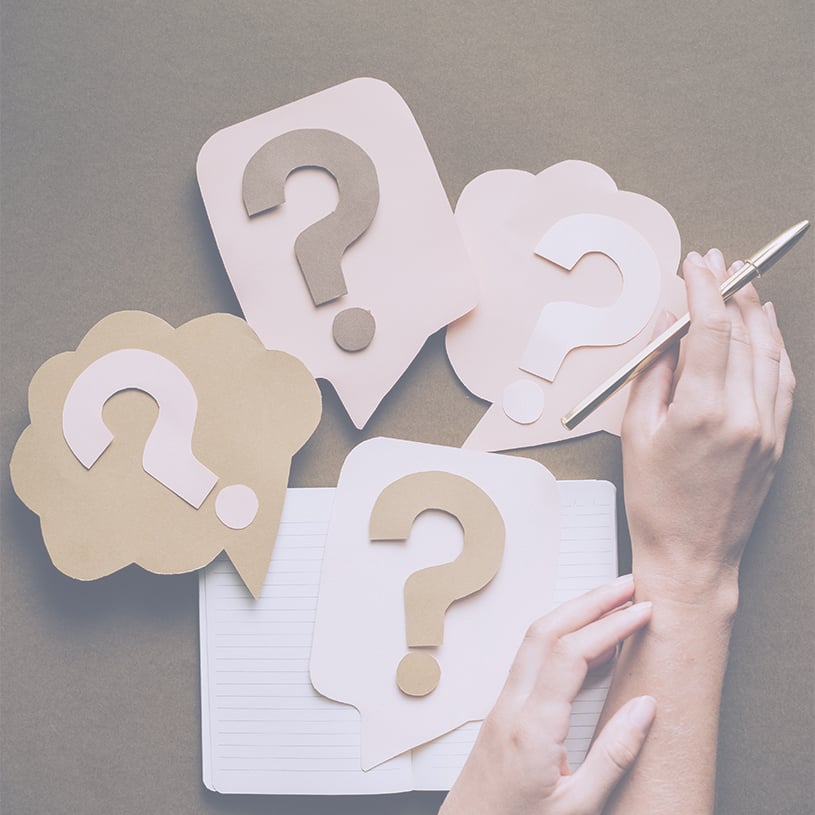 4 Things You Need to Know When Considering Chatbots
Ersin walks through the surprising opportunities potential chatbot customers miss in their chatbot project planning.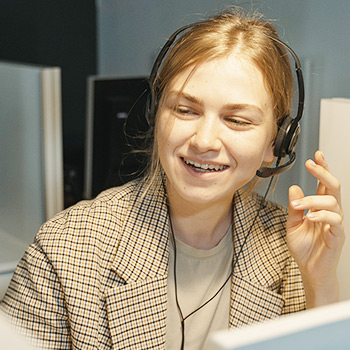 Must-Have AI Chatbot Features for Better Customer Experience
Are you considering an AI chatbot? This guide helps you ask the right questions to chatbot vendors about chatbot features when you compare options.