by Mikko Rindell
on September 05, 2018
Reading time: 7 minutes
AI AND CHATBOTS IN ENERGY
Artificial intelligence offers a novel lifeline to an industry that needs rebranding.
AI already benefits the energy sector in many ways, from market price prediction to smart grid fault detection. For example, General Electric estimates that AI will enhance wind power production by 20% and generate around $50 billion more value for the wind industry.
As Oil & Gas modernises, pivoting investment to cleaner and more sustainable energy solutions, it has an opportunity to connect with customers more directly and with personalised conversations. These conversations can help emphasise the great strides energy companies are making in environmentally conscious solutions.
Customer service chatbots help companies talk to more customers without increasing customer service team personnel. Here are some of the benefits your company gets from AI chatbots for energy and utilities.

[Looking for guide on chatbots for other industries? Read our guide on AI and chatbots for industry.]
Greater Customer Service Team Capacity
Energy companies are often classified as utilities. As a utility you often have a mandate to provide energy to the population, and providing customers with support during outages or unexpected power failures ties into this mandate.
While your customer service team would handle all customer requests during normal service operations, customer service agents generally experience surges in calls and requests when there's a service fault.
AI chatbots for energy suppliers and power companies are designed to handle these surplus customer demands to lighten customer service agents load.
YTK experienced this first hand during the first COVID-19 wave in Spring 2020. They experienced 75,000 service requests in their chat service by the end of May 2020, more that double their annual chat volume in 2019 at 41,000 chat conversations.
Out of those 75,000 conversations, YTK's human agents only had to deal with 10% during service hours. A single AI chatbot on their team helped them deliver service to customers that wouldn't be possible unless they had a 9x bigger team.
"Through chatbot Iiris, our customers get urgently needed help immediately, even while other support channels are congested. Average feedback has remained at a good level and even increased slightly during the Spring of 2020."

Anne Rautu, Marketing Manager at YTK
Even for teams without a history of unexpected surges in customer service, we see incredible efficiencies. YTK and Varma, both GetJenny customers, have managed to maximise their human agent potential by introducing chatbots.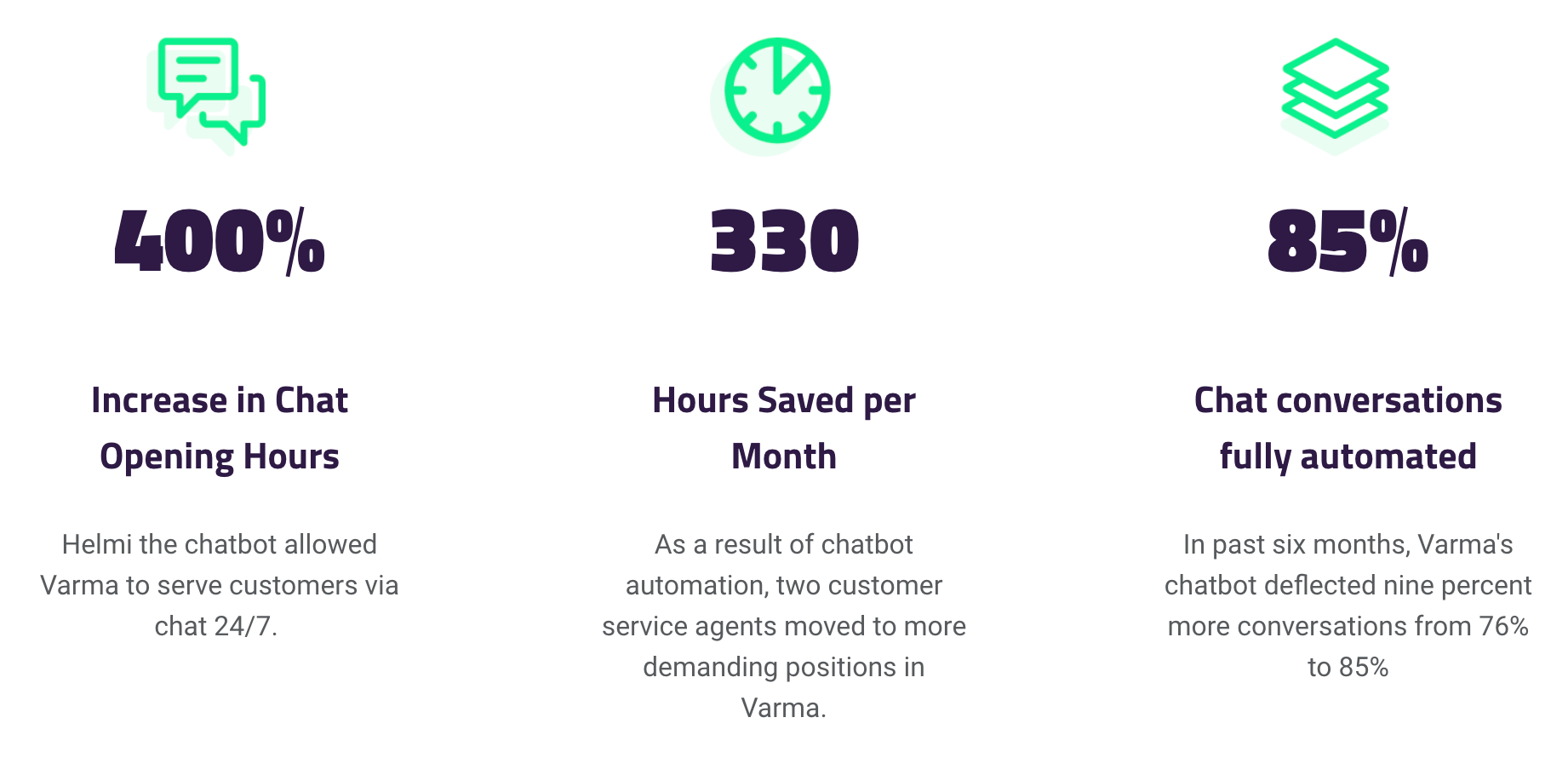 Source: Varma Case Study with GetJenny
Both companies have moved two team members in their customer service team to other duties following chatbot adoption.
Their AI chatbot has freed up time for their human colleagues to improve customer service and experience in other ways.
AI chatbots regularly expand customer service team capacity in any company they work in, even during crises.
Faster Response Time
Five seconds. That's the chatbot response time. An AI chatbot can handle hundreds of conversations simultaneously and won't break a sweat.
While chatbot first response times are fast, it's not really a great indicator of performance, since there aren't any queues with a machine. We decided to gather more data by testing customer service response and resolution times for Energy companies in Sweden for our State of Customer Experience in the Energy Sector Report.
We tested the companies with a few simple questions a human representative should be able to answer rapidly and compared the results across multiple channels, including chatbot, live chat, email and social.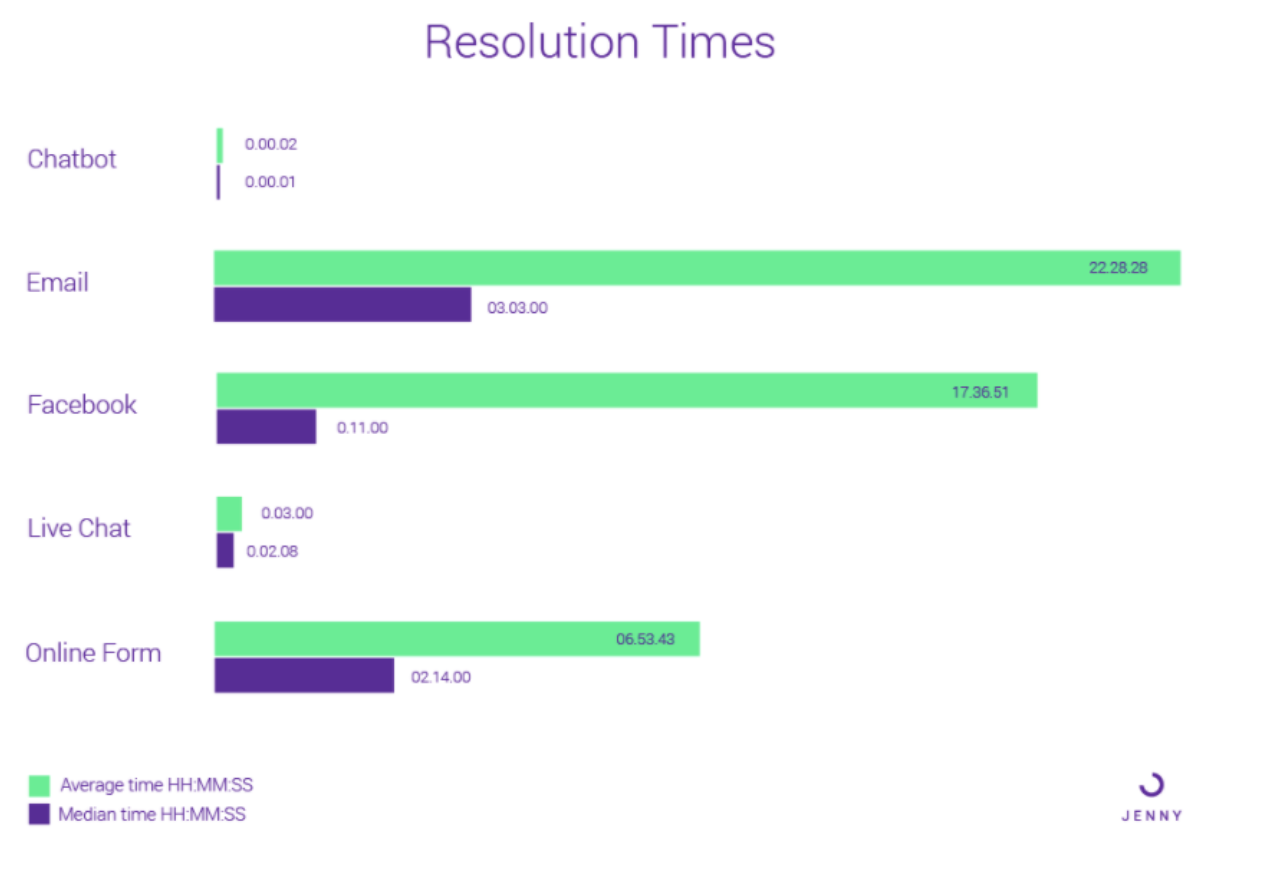 Source: GetJenny Energy Sector Report
As some support channels failed to answer, or there was a strong outlier, it's more telling to compare medians rather than mean averages.
Chatbot and Live Chat dominate in resolution time, defined in this experiment as the length of time it takes to get an answer from the point the question was asked.
At one second and two minutes resolution time respectively, chat support has the clear advantage of speed.
Email support comes out worst, with a median resolution time of three hours, and contact forms are not far behind, with a two-hour wait for answers to simple questions.
High Deflection
About 60-90% of your customer service queries are frequently asked, simple questions. If we take the lower end of that scale, you can estimate about 250 hours per month saved per month by eliminating those FAQs from your agents' workload.
Deflection brings new opportunities for brands investing in better CX. For example, your customer service agents can:
dedicate time caring for customers who need more comprehensive support

take on extra duties and develop initiatives to improve your overall customer experience
"Using the chatbot, we have been able to automate more than 60% of the repetitive questions, leaving more time for our agents to focus on more demanding tasks."

Linda Hay, Head of Customer Service at Göteborg Energi
[Read Göteborg Energi's Case Study with GetJenny]
Create Sales Opportunities
Part of creating an amazing customer experience is to generate more energy contract sales opportunities. While customer appreciate prompt and comprehensive customer service, a growing section of your customer base cares about what sort of brand they're buying from.
Environmentally-conscious customers are on the rise as a 2020 Deloitte study proves: over half of both residential and business consumers say it's extremely important that their power comes from renewable energy and that they are actively making choice to do business with environmentally responsible energy suppliers.
With new factors in decision-making in play, conversations with your potential customers should help confirm these needs as they are becoming more conscious and inquisitive about their electricity sourcing.
A conversational chatbot will help your customers choose the factors most important to them and lead them to the perfect sales package for their needs. It also would collect their information so you can close the sale.
With RPA integrations, it's possible to automate the entire buying process, from conversation to sending their details to your CRM software and completing the purchase.
"Our chatbot delights visitors, answers their questions and drives more informed and qualified potential customers to our sales team.

GetJenny helped us build a chatbot that's easy to use and makes life easier for our human CX team."

Niko Pehkonen, Chief Digital Officer at Väre
[Read Väre's Case Study with GetJenny]
Are Chatbots Right for your Company?
If you're looking to upgrade your customer service like Göteberg Energi, with their 60% automation rate, consider following their requirements when they shopped around for a chatbot:
1. High Automation Rate for your Industry
Chatbots answer common questions from customers to let customer service agents focus on more complex customer issues.
It's important to check if customer service chatbot automation is a good fit for your customer service team. A chatbot can easily deliver a few seconds first response time and similar resolution time. Customers quickly get the answers to the questions they ask, and with no room for error.
It's important to examine how automation rates for your industry grow over time. Sixty percent automation after a couple of months, like what Göteberg Energi experienced using a Jenny chatbot, is an indicator that this chatbot type is an excellent fit for the energy industry.
2. Easy-to-Use Admin Interface
Chatbots require regular maintenance, about two hours a week. This ensures growing automation or deflection and that customers are always getting up-to-date information.
Maintenance should not require an IT team or any specialised hires. For customer service, it's good practise to get agents involved.
Take a look at the administration interface your chatbot vendor uses. It should be easy-to-use, with no complicated interfaces that require 5 years coding experience to understand. Customer service agents must be able to quickly and easily fix any issues that might come up, preferably in real-time.
GetJenny chatbots came out on top when compared to their competitors in a public tender process by Keva, a Finnish pensions insurer. They rated the Jenny solution 10x easier-to-use than the competition.
3. Training and Support
Bringing customer service chatbots into your team is almost like hiring a new team member.
Agents working on the existing customer service team need to understand what the chatbot does, how to maintain it, and how it will make their job easier by handling repetitive issues so that they can focus on more complex tasks.
It's important to examine what sort of training and support your chatbot vendor offers. A significant bonus is if they have experience working with Energy companies previously, and have templates to get you started rapidly.

[Want a checklist of features and questions to ask your chatbot vendors? Here's 9 Essential Features Your Chatbot Should Have.]
Summary
Successful chatbot integration is a major step for energy companies to create more meaningful relationships with their customers.
Conversational channels help the energy industry in general deliver better customer experiences and attract new environmentally-conscious customers while simultaneously decreasing costs.
Learn more about using AI chatbots for your energy brand.
(Updated on 7 May, 2021. We added more relevant information for energy providers looking for AI chatbot solutions and included new resources to help you choose the right chatbot vendor for your brand.)
Similar articles
The Best Customer Service Tools in 2021: A Comprehensive Guide
100+ best customer service tools reviewed for you! Learn the benefits of each tool and decide the best fit for your organization, updated for 2021.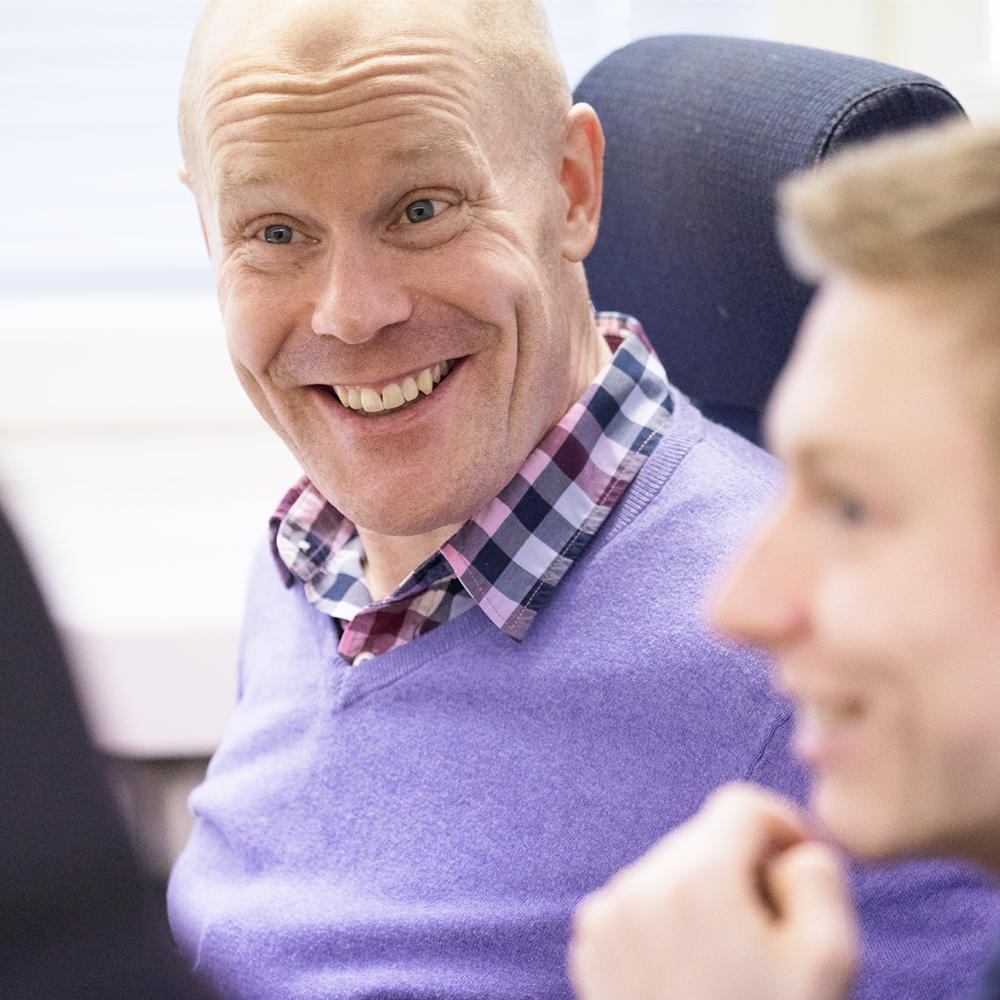 Partnership in Action: Chatbots for the Pensions Industry
Learn how GetJenny builds partnerships to bring chatbots to new industries. Riku Salminen shares his thoughts about how partnerships work for...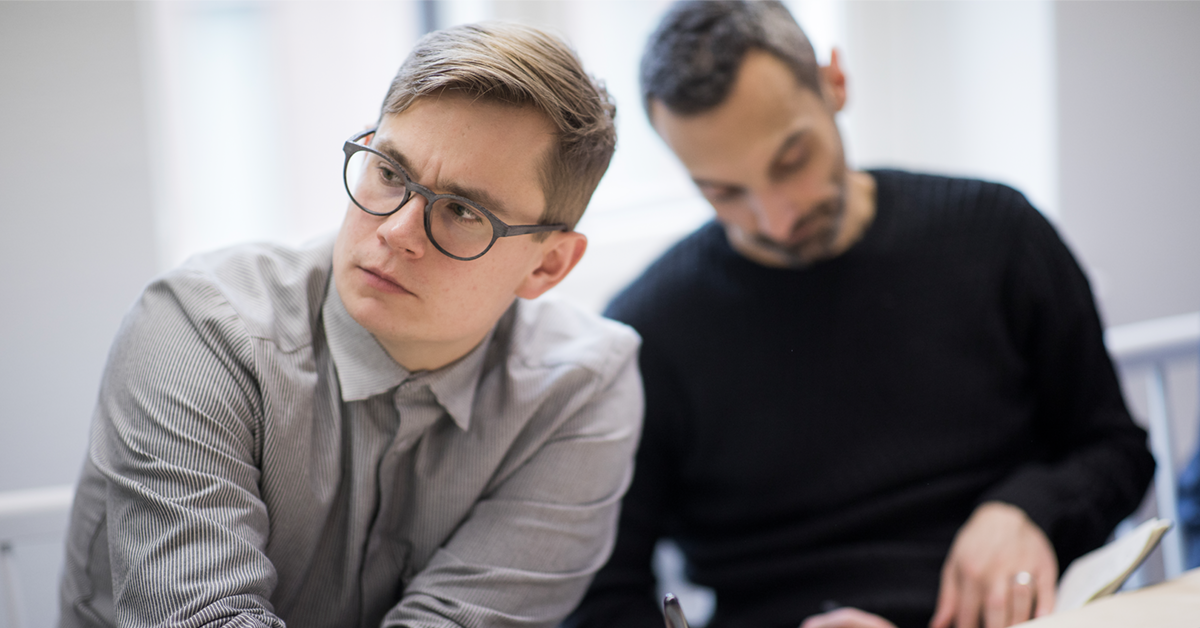 8 live chat service tips: how to deliver an amazing service?
Great customer service is worth the effort. Here are 8 tips that help you to deliver amazing live chat service to your website visitors and turn them...